Unlock the Top 6 Benefits of Owning a Custom Hand-Drawn Sticker Collection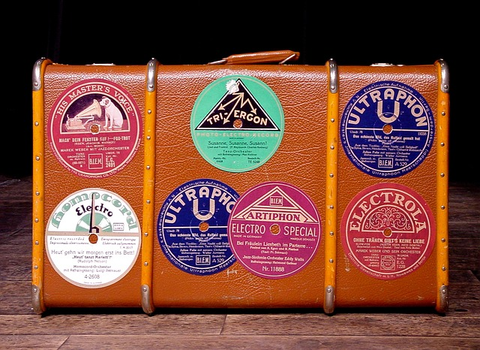 The benefits of owning your collection of custom-made, hand-drawn, unique, and personalized stickers are numerous. The possibilities are endless, from using them as creative gifts to promoting your business, expressing yourself, and personalizing your possessions. This guide will explore how to begin creating your collection and provide tips on building and growing yours with maximum efficiency.
1
Sticker collecting is a great hobby that all ages can enjoy. Whether you want to start your collection or give them as gifts, custom hand-drawn vinyl stickers are a unique and fun way to show off your personality and creativity. With so many different designs available, finding something that speaks to you is easy. Here are some tips on how to get started with sticker collecting:
Choose Your Theme:
When starting out, deciding what kind of theme you want for your collection is important. Are you into animals? Maybe superheroes? Or maybe abstract art? Once you've settled on a concept, deciding which stickers best suit your aesthetic will be simpler. You can also mix and match themes if there isn't one specific theme that stands out for you.
Find Quality Content:
When searching for quality content, look for handmade stickers from independent artists specializing in creating original artwork. The professional artists behind Printed Memories Custom Stickers are perfect! They use your sticker brief (and theme) and offer unlimited revisions until you are happy with your stickers!
Start Small & Build Up:
Once you've chosen the perfect design(s), don't feel like you need to buy every single one immediately. Start small by purchasing a Printed Memories ten pack of stickers, then gradually build up your collection over time as you think of new designs and ideas or if there's something special about specific pieces that catch your eye - this way, it won't break the bank either. Since you choose your design or occasion, you are printing stickers to your unique aesthetic.
Research & Read Reviews:
Before committing to any online purchases, it is crucial to research the company/artist who sell stickers online. Read reviews from customers who have purchased before and assess what people think about their services. Send queries to the seller via electronic communication or social media platforms, e.g., Instagram and Facebook, for further information if necessary. This will help ensure that whatever product(s) being bought are of good quality before investing money into them.
Above all else, enjoy yourself while doing it. There is no rush when building up collections; take time exploring different styles until finding something truly special that fits within budget constraints too. After all, sticker collecting should be a fun and not a stressful experience at its core.
Accumulating personalized, hand-crafted stickers can be an engaging and fulfilling pursuit, granting you the chance to articulate yourself in idiosyncratic ways while assembling a remarkable collection. The following passage will delve into the manifold advantages of having a custom hand-drawn sticker collection.
Key Takeaway: Collecting custom hand-drawn stickers can be a fun and creative way to express yourself; make sure to research the sticker shops and read reviews before investing in them.
2
Sticker collecting is a popular hobby among Generation Z, and custom hand-drawn stickers are the perfect way to add unique designs to any collection. These high-quality stickers feature intricate artwork that stands out from traditional sticker shop collections. Whether you're looking for something special to give as a gift or want to expand your own personal collection, custom hand-drawn stickers are sure to make an impression.
Designs:
Custom hand-drawn stickers come in all shapes and sizes, with each design being one of a kind. From abstract patterns and whimsical characters to nature scenes and landscapes, there's something for everyone in these collections. The artwork on these stickers is often intricate and detailed; some even include multiple layers of color or textures that create depth when viewed up close, like holographic stickers. Each sticker has its own personality – no two will ever be exactly alike.
Quality:
Printed Memories takes pride in providing only the highest quality types of sticker finishes stickers for their customers. All of their custom hand-drawn stickers are printed on thick vinyl material that won't tear or fade over time, like other sticker paper-based materials, like vinyl sticker paper or adhesive sticker paper, can do after extended use outdoors or indoors (depending on the type). They also have a scratch-resistant top sticker layer, so they won't get damaged if rubbed against rough surfaces like concrete walls or metal poles while stuck onto them - making them ideal for indoor and outdoor uses.
Gift Ideas:
Custom hand-drawn sticker collections make great gifts for friends who love collecting too. You can choose from individual designs or pay extra and give notes to your designer - perfect for birthdays, holidays, anniversaries, etc... Not only will your recipient appreciate receiving such thoughtful gifts, but they'll also enjoy having custom stickers that nobody else has. Plus, it's always nice knowing that each piece was made with care by someone who loves what they do - giving your gift an extra special touch too.
To ensure the longevity of your hand-drawn print stickers, it is important to take proper care when handling them. This is especially true if used outdoors, as weather conditions can affect how long they last before needing replacement or refreshing due to fading colors. Always keep them stored away from direct sunlight and extreme temperatures (both hot and cold), as well as moisture sources like rain or humidity which could cause damage over time if not considered beforehand. Heed these suggestions, and you can relish your artistic endeavors for years without trouble.
Accumulating bespoke, hand-crafted stickers is an ideal way to demonstrate your imagination, flaunt your flair, and be part of a select group. Plus, it's fun. Gather up a one-of-a-kind assortment of stickers by taking these steps.
Key Takeaway: Uniquely crafted stickers are an ideal way to inject a bit of individuality and character into any collection, with high-grade materials ensuring that the intricate designs stay vibrant for years.
3
Stickers can be a fantastic way to demonstrate who you are and flaunt your identity. Custom hand-drawn stickers offer extra personalization, allowing you to create something unique that reflects your individual style. But how exactly do custom hand-drawn stickers come into being?
Design Process:
The sticker design process for custom hand-drawn stickers starts with the artist sketching their idea on paper or digitally in software such as Adobe Illustrator or Photoshop. The artist then adds color and texture to the design, often using watercolor paints or markers. Once the artwork is complete, it's scanned and converted into a digital format to be printed onto sticker material. The creative process may span several days, depending on the intricacy of the artwork.
Printing & Finishing:
Once the artwork has been digitized, it's ready for printing onto sticker material such as vinyl or paper stock. Once the artwork has been digitized and printed onto vinyl, a further step is required for outdoor use - an additional coating must be applied to make them waterproof and robust. Finally, each sticker is cut out by hand (or machine) before being packaged and shipped.
Quality Matters:
When selecting custom hand-drawn stickers, choosing an experienced artist who understands how colors interact and can create designs that look great both online and offline is beneficial. Additionally, opting for higher quality materials such as vinyl will ensure your stickers last longer without fading or cracking due to exposure to sunlight or moisture - making them suitable for outdoor use.
Overall Experience:
Creating custom hand-drawn stickers offers an exciting creative experience where no two pieces are alike, giving you something unique every single time. Not only does this give you more freedom when expressing yourself, but it also allows others around you to recognize just how special these creations are. Furthermore, collecting them makes for a fun hobby too. Therefore, take advantage of this amazing opportunity today with Printed Memories' selection of high-quality handmade sticker designs available at competitive prices - there's never been a better time to start building your collection today.
Hand-drawn stickers are an excellent way to showcase individuality and inject a personal touch into any assemblage. They also make for unique gifts that can be treasured for years. Custom stickers can help create the perfect sticker collection with endless possibilities.
Key Takeaway: Possessing bespoke, hand-crafted emblems is an exhilarating and imaginative method to communicate yourself, with the additional gain of a singular assemblage that will endure for ages.
Unlike so many other sticker shops, Printed Memories creates stickers with high-quality materials to ensure they last for years without fading or peeling off surfaces. The materials employed in their sticker printer are ecologically amicable, guaranteeing their utilization inside and outside without causing any damage to the encompassing habitat.
Custom hand-drawn stickers offer a unique and personal touch to any collection. Custom hand-drawn stickers offer an individualized touch to any set, customizable in size, form, hue, and pattern - each unique. Furthermore, custom hand-drawn stickers have an added level of detail compared to pre-made stickers, which allows for more intricate designs and greater creativity when creating your unique artwork.
Durability:
When it comes to durability, custom hand-drawn stickers stand out from the rest due to their superior quality material construction. The ink used on these types of stickers is waterproof and UV resistant, which helps protect against fading over time and wear and tear from everyday use, such as being placed on a reusable water bottle, mobile phone case or laptops. Additionally, the adhesive backing ensures that they will stay firmly in place once applied correctly until you decide otherwise.
Cost Efficiency:
Another great benefit of custom hand-drawn stickers is cost efficiency; since you're able to customize your own design, there's no need to purchase multiple packs containing various different designs like with pre-made options - saving both money and space in your collection. Furthermore, if you plan on giving away some of your creations, this type of sticker can be printed in bulk at a much lower cost than buying individual ones separately – making it ideal for those looking for affordable gifts too.
Overall Quality:
A custom hand-drawn sticker collection can bring many benefits, from the unique and personalized design to the memories it creates. Owning a set of hand-crafted stickers with exquisite detail and quality will make your collection stand out from the crowd. Now let's explore how owning such a special set of stickers can be beneficial.
Key Takeaway: Custom hand-drawn stickers offer a unique, personal touch and superior quality material construction, making them an ideal choice for collectors who want their collections to last.
4
Sticker Collecting for Generation Z:
An Affordable Way to Express Yourself.
What is Sticker Collecting?
Sticker collecting is a hobby that has been around since the early 1900s and continues to be popular among all generations, especially Generation Z. It involves gathering and selling stickers from various sources such as magazines, newspapers, trading cards, and other merchandise. The pursuit of sticker collecting is to amass a variety of exclusive motifs or icons that can be employed for embellishment or presented as presents.
Why Should You Start Collecting Stickers?
Collecting stickers provides an affordable way for Generation Zers to express themselves through art and design. With custom hand-drawn stickers available at low prices online, it's easy to create collections with your style in mind. Plus, you can share your collection with friends by trading them out or giving them away as gifts. Not only does this make it fun, but also encourages others to start their own collections too.
How Can You Get Started?
Getting started with sticker collecting doesn't have to be difficult or expensive. There are plenty of resources available online that provide tips on how best to get started building your collection. Printed Memories offers high-quality custom hand-drawn stickers at an affordable price, so you don't have to break the bank when starting out. They also offer helpful guides on how best to store and display your collection once you get going – perfect for those who want their collections to look neat and organized.
Where Can You Find Quality Stickers?
Printed Memories specializes in creating custom hand-drawn stickers made from premium materials, which makes them long-lasting even when exposed outdoors. Whether you're looking for character designs like animals or plants; holiday-themed designs; sports logos; or pop culture icons - they have something special just waiting for you. Plus, they provide reviews from fellow collectors, so you know what quality products they offer before making any purchases yourself.
Aside from having access to quality content, there are lots of other things worth considering when getting into sticker collecting such as proper storage methods (to keep dust off) and ways in which one can display their collection without taking up too much space (such as wall decals). Plenty of blogs are dedicated solely to helping newbies understand the ins-and-outs of this hobby, so take some time researching these topics before diving head-first into the world of sticker collecting.
Collecting custom hand-drawn stickers can be a great way to express your personality, start conversations, and build meaningful connections with other sticker collectors. With the right resources and guidance, you can create an amazing collection that will bring joy for years. To begin your sticker-collecting adventure, here are a few tips to get you going.
Key Takeaway: Sticker collecting is an affordable and fun way for Generation Zers to express themselves creatively. Custom hand-drawn stickers are available at low prices online and helpful guides on how to to store and display your collection.
5
Creating a custom hand-drawn sticker collection is an excellent way to show someone you care. These unique stickers will surely make the recipient smile, whether for a birthday, wedding, or any other special occasion. These charming stickers can embellish cards and presents, not only looking splendid. Here's what you need to know about creating your own custom hand-drawn sticker collection.
Designing Your Stickers:
The first step in creating your custom hand-drawn sticker collection is designing the stickers. You can make some notes, and a Printed Memories artist will turn your sticker ideas into something unique. Additionally, if there are specific colors or textures that you want to be included in your designs then make sure that these details are communicated clearly in the notes section or when you receive a digital proof via email or Facebook Messenger.
Printing & Production:
Once your designs have been finalized and approved by both parties involved (you and the artist), it's time for printing and production. This process typically involves using high-quality vinyl material to ensure that each sticker looks its best once printed out onto paper stock or cardstock paper backing materials - depending on the project you plan on using them for. Additionally, some companies may offer additional services such as die cutting around each design so they can easily be peeled off from one another without tearing up any part of their artwork - making them even more special.
Gifting your collection can be an exciting experience. With the right amount of money, time, and effort to create it, there are many ways to present this gift. It could range from simply wrapping up all of the creations in a package with a ribbon tied around it or taking things further by adding extra goodies such as notebooks filled with blank pages for decorating with those amazing stickers. You could even stick finished stickers to coffee mugs or use them as decoration, no matter what you decide; Printed Memories guarantees satisfaction every time.
Creating custom hand-drawn sticker collections is an excellent way to show someone you care and make them feel special on any occasion. Why not get started now and create something special? With our quality materials and expert designers, we promise that every piece will be perfectly crafted just for you. So don't wait any longer and start making those unique gifts today.
The custom hand-drawn sticker collection offers a unique and creative way to express yourself while also building meaningful memories with friends and family.
Key Takeaway: Creating custom hand-drawn stickers is an ideal way to show someone you care and make them feel special, with quality materials and expert designers ensuring perfect results every time.
6
Sticker collecting is a fun and rewarding hobby that can bring joy to many people. Whether you're just starting or have been collecting for years, Printed Memories has the perfect custom hand-drawn stickers for your collection.
Quality Stickers
Printed Memories offers high-quality stickers made with attention to detail and care. Expert artisans, who take immense pride in their creations, craft each sticker with precision and care - ensuring a long-lasting look of quality. The vibrant colors and unique designs make these stickers stand out from the rest.
How To Guides
Not sure how to start building your collection? Printed Memories provides helpful guides on organizing your custom hand-drawn sticker collection. Learn tips on where to find new additions, how to store them properly, and more. With this information at your fingertips, you can create an impressive display of colorful artwork that will draw attention wherever it goes.
Reviews & Information From Collectors
If you want advice from fellow collectors or need help finding something specific, look no further than Printed Memories. Their reviews section offers impartial, candid commentary from past patrons to give you an idea of the worthiness of any item before buying. They also provide detailed information about different stickers, so you know exactly what kind of product you're getting when ordering online.
Gifts For Other Collectors
For those looking for the perfect gift for another collector in their life, Printed Memories has plenty of options available. Show someone special just how much they mean to you with one-of-a-kind handmade gifts like personalized notebooks featuring their favorite characters or unique wall art pieces showcasing iconic images from popular films or TV shows – all adorned with beautiful custom hand-drawn stickers. These items are sure to be cherished forever as part of any collection.
Encouraging Others To Collect Stickers
Finally, Printed Memories encourages others – especially younger generations – to join in on the fun by offering discounts on bulk orders and affordable shipping costs worldwide. This makes it easier and cheaper for everyone involved and helps spread awareness about this wonderful hobby, potentially leading more people to become avid collectors someday.
Key Takeaway: Collecting custom hand-drawn stickers can be a rewarding hobby that offers quality, guides, reviews, and discounts for bulk orders - making stickers perfect for gifts or encouraging others to join in on the fun.
FAQs in Relation to The Benefits of Owning a Custom Hand-Drawn Sticker Collection
Is a sticker-making business profitable?
Yes, a sticker-making business can be profitable. Businesses can capitalize on crafting unique products that customers are willing to pay for by implementing a practical design and marketing approach. Moreover, the profit potential is enormous when it comes to leveraging digital channels such as Etsy or social media; these platforms provide a vast customer base from which businesses can draw. Companies can generate significant profits from their sticker-making ventures by investing in quality materials and creating an attractive brand image.
Is it a good idea to start a sticker business?
Yes, starting a sticker business can be a great idea. Unique and captivating stickers can be crafted, giving enthusiasts and hoarders something to look forward to. With the right marketing strategy, you can reach out to your target audience and build up brand loyalty with quality content such as how-to guides, reviews, and information from other sticker collectors. Additionally, there are several potential revenue streams to explore with sticker sales, whether through digital storefronts or physical retail outlets. You could make a successful venture out of this creative endeavor with the right approach.
What are the benefits of sticker marketing?
Sticker marketing is an effective way to reach a wide audience and create brand recognition. Sticker marketing provides businesses with a unique opportunity to interact with their customers in an enjoyable and cost-efficient way. Stickers can be used for promotional purposes or as rewards for loyalty programs. Stickers can bolster campaigns, inaugurate products, celebrate happenings, and hand out prizes. Additionally, stickers provide a tangible reminder of your brand that customers can keep with them wherever they go - making it easier to recall the company's message at any time. With their versatility and affordability sticker marketing provides an easy way to ensure your message sticks.
Conclusion
Owning a custom hand-drawn sticker collection can be an incredibly rewarding experience. A custom hand-drawn sticker collection can be an amazing way to show off your personality, craft unique presents for loved ones, or even promote your business. With the right tips and guidance, anyone can build a custom hand-drawn sticker collection that will bring joy and satisfaction for years. The benefits of owning such a collection are truly limitless.
Are you looking to build a unique and personal collection of custom stickers? Printed Memories Custom Stickers is here to help! Our website provides reviews, guides, tips, and various custom vinyl stickers for those who want to start collecting hand-drawn stickers. With our expert advice on how best to store your stickers and the latest news in sticker culture, we are sure that building up a fantastic collection has never been easier. Visit us today at www.printedmemories.com, and let's start creating special memories with your personalized designs!