Travel in Style: Express Your Personality with Custom Hand Drawn Stickers on Your Luggage!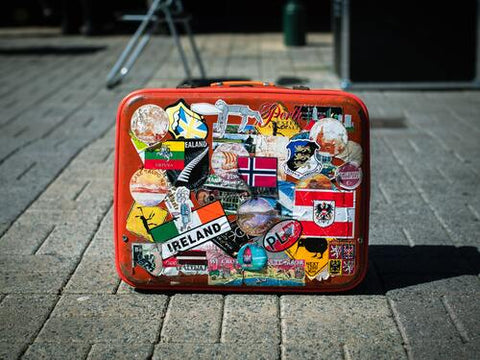 Are you looking for a way to express your personality and make each destination unique? Look no further than Printed Memories custom hand-drawn stickers. With the perfect shape, size, style, and photo quality, these personalized stickers will surely add a personal touch of individuality to any piece of luggage. From choosing the right design that speaks to you, getting an optimal photo quality for lasting memories on your travels, and understanding shipping details from Printed Memories Custom Stickers - this guide has everything you need to know about adding personal flair with custom-made stickers. So why wait? Unlock your creativity today with Printed Memories Custom Hand Drawn Stickers on Your Luggage.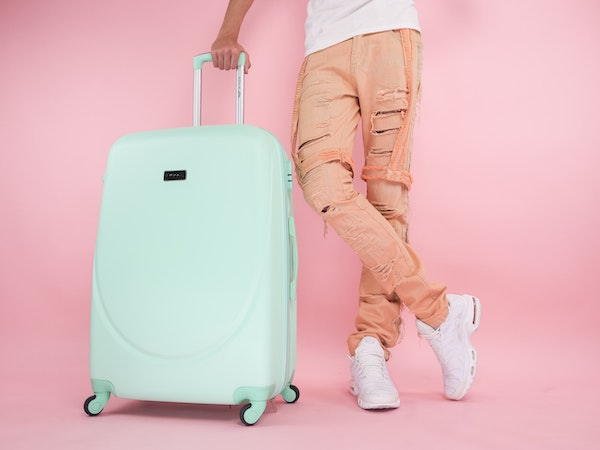 Unlock Your Creativity with Custom Hand-Drawn Stickers
When it comes to expressing yourself, nothing beats custom hand-drawn stickers. At Printed Memories, we offer different stickers that can be designed to reflect your individual style - from bold and vibrant designs to more subtle and sophisticated looks.
Our experienced designers are dedicated to making your own design for your travel gear come alive. Our design experts have extensive knowledge of graphics, so we know how significant it is to make a look that mirrors your identity while at the same time conveying whatever idea you need to communicate. We use only the highest quality materials so that each sticker looks as good as possible when applied onto any smooth surface – from cars and laptop covers to water bottles and windows.
Get the Best Image Quality For Your Suitcase Sticker: At Printed Memories, we guarantee the utmost image quality for all our products - regardless of their size. Our special printing technology ensures that each photo remains clear and vibrant even after enduring repeated use.
No matter where your travels take you, make each destination unique with a custom sticker from Printed Memories. Whether it's tropical paradises lined with swaying palm trees or majestic mountain peaks covered in pristine snow, our personalized stickers' vibrant colors and bold designs will bring any adventure to life. With state-of-the-art printing technology that ensures maximum clarity without sacrificing durability over time, these eye-catching pieces are sure to be conversation starters as they adorn your suitcase or laptop. So why wait? Make memories stick wherever you go and unlock your creativity today by putting stickers on your travel gear.
Shipping Details From Printed Memories Custom Stickers: Once you've approved our design, your vinyl stickers will be processed, created, and shipped. This will take 10-15 days from the final approval date. 
Key Takeaway: Printed Memories offers high-quality, custom hand drawn stickers for any surface that can be tailored to reflect your unique style. With top of the line materials and an easy application guide included with every order, you'll have your luggage looking snazzy in no time. So why wait? Unlock your creativity today and make memories stick wherever you go.
Choose the Perfect Shape, Size, and Style for Your Suitcase
When it comes to designing your own personalized bag or suitcase tags, the shape and dimensions of the sticker can be as vital as its design. From classic circles to intricate shapes, Printed Memories offers a wide range of options for you to choose from.
Shape:
When selecting a shape for your suitcase sticker, consider how it will look on your bag or suitcase. If you're looking for something subtle and understated, opt for classic round or oval shapes. For a more eye-catching statement piece, try out geometric designs like squares and rectangles with rounded corners or unique starburst patterns.
Size:
The size of your sticker should be chosen based on the intended placement. For example, if you want an extra pop of color when someone looks at your bag from afar then large stickers are best suited for that purpose; however if you want something smaller but still noticeable then go with medium sized stickers instead.
Style:
You also have the option to customize the style of your luggage sticker with different finishes such as glossy or matte laminate coating, giving off an extra touch of classiness when applied correctly. Other popular styles include die-cut stickers (where only certain parts are cut out) and embossed ones (which have raised surfaces).
Selecting the perfect form, dimension and design for your suitcase is vital to ensure that it accurately reflects your brand. With this in mind, let's take a look at how to get the best image quality for your design.
Key Takeaway: Customize your suitcase, and water bottle with a unique and eye-catching sticker that expresses yourself. Printed Memories offers various shapes, sizes, and styles of stickers to choose from such as classic circles or rectangles with rounded corners for added flair. Let the world know who you are - capture the golden age of travel today.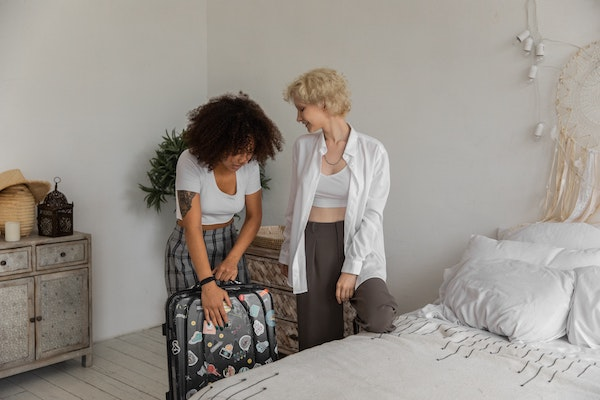 Get the Best Image Quality for Your Sticker
When it comes to getting the best image quality for your luggage sticker, you need to know what type of material and adhesive will work best. The most popular materials employed for stickers are vinyl, paper, or plastic. Vinyl is durable and can withstand wear and tear better than other materials. It also has a glossy finish that makes it look professional when applied on luggage. Paper stickers have a matte finish but they tend to be less durable than vinyl ones. Plastic stickers are waterproof and scratch-resistant so they're perfect if you want something that will last longer without fading or peeling off over time.
The next step in getting the highest quality sticker is finding the right adhesive. For vinyl or paper stickers, use an acrylic-based adhesive as this ensures that your sticker won't come off easily due to moisture or heat exposure while traveling with your bag around town or overseas. If you're using plastic stickers, then opt for a solvent-based adhesive as this offers greater adhesion strength which helps keep them from peeling off even after being exposed to water or humidity levels in different climates during long trips away from home.
Finally, make sure you choose high resolution images when designing your own customized labels – especially if they include cute things like cartoon characters. Low resolution images often appear blurry and pixelated which takes away from their overall aesthetic appeal; whereas higher resolutions provide sharpness and clarity so that every detail looks crisp when printed onto your sticker sheet of choice. Additionally, avoid printing too many colors at once as this could cause ink smearing on the surface of the label – instead stick with one main color palette per design for optimal results.
To get the best image quality for your sticker, make sure to use high-resolution images and vibrant colors. To make each destination unique with a custom sticker, you can create personalized designs that reflect your brand.
Key Takeaway: To ensure your luggage sticker looks professional and lasts for years, choose vinyl or paper stickers with an acrylic-based adhesive. For plastic ones, opt for a solvent-based glue instead. Additionally, use high resolution images when designing custom labels to get the sharpest details possible. In conclusion, if you want your sticker to last, don't skimp on quality.
Make Each Destination Unique with a Custom Sticker
Exploring different locales can be a thrilling adventure, giving you the chance to discover unique cultures, views and sounds. It's also an opportunity to express your individual style with custom luggage stickers. Printed Memories offers a wide selection of hand-drawn designs that can be customized for each destination you visit.
For travelers who want the highest quality image possible on their luggage sticker, Printed Memories uses advanced printing techniques to ensure crisp details and vibrant colors every time. Their cutting-edge technology ensures a sharp image even when printed in small sizes – perfect for adding a personalized touch to any suitcase or backpack.
When it comes to selecting the right design for your trip, there are plenty of options available at Printed Memories. From fun cartoon characters and colorful patterns to sophisticated illustrations and intricate designs – they have something for everyone. And if you don't see exactly what you're looking for in their existing library of ideas, they also offer custom orders so you can create something truly one-of-a-kind.
Once you've chosen the perfect design for your travels, all that remains is ordering and shipping details from Printed Memories Custom Stickers. Most orders are typically delivered within 10-15 business days of purchase. To ensure longevity of your stickers once received it's important that they're stored properly away from direct sunlight or extreme temperatures as this could cause fading or damage over time which may affect adhesion strength when applied onto surfaces like suitcases or backpacks.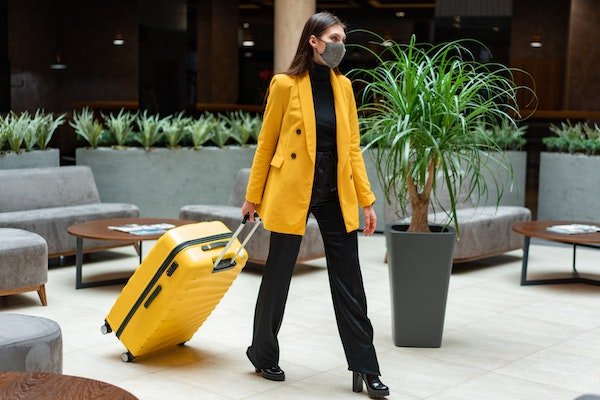 Finally, collecting these custom stickers provides many benefits such as building an extensive sticker collection which makes great gifts especially amongst other collectors who share similar interests. It is also cost effective compared to purchasing individual souvenirs while traveling around different places. Therefore, why not start collecting today?
Personalizing your luggage with custom stickers is a great way to make each destination unique and memorable. With Printed Memories, you can easily order high-quality hand drawn stickers that will be shipped directly to your door for easy application on any type of surface.
Key Takeaway: Express your unique style while traveling with Printed Memories Custom Stickers. Their advanced printing tech and wide range of hand-crafted motifs make it a breeze to give your luggage or bag an individualized look. Collecting these personalized stickers is also cost effective compared to purchasing individual souvenirs - so why not start collecting today?
Shipping Details from Printed Memories Custom Stickers
At Printed Memories, we understand the importance of getting your stickers to you quickly and safely. That's why we offer a variety of shipping options to make sure that your sticker order arrives when you need it.
When ordering from Printed Memories, you can choose skip the queue where your order will be treated like a VIP and printed faster than the rest.An essential if you're in a hurry.
We also provide tracking information with every order so that shoppers can stay up to date on their package's progress throughout its journey from our shop to their doorstep.  Get shipping Protection covers packages that are lost, damaged, or stolen during transit.Coverage takes effect immediately following checkout and continues until the artwork is delivered and received safe and sound by the customer.
For larger orders such as bulk purchases or corporate gifts, customers may qualify for discounted rates on shipping costs depending on size and weight specifications of the shipment being sent out by our team here at Printed Memories. Our objective is to keep the shipping costs down while still delivering quality customer service, so that everyone can take advantage of economical yet dependable delivery services regardless of what they are dispatching.
Finally, all shipments must be signed upon receipt in order for us here at Printed Memories to guarantee delivery confirmation and successful transaction completion. This helps protect both parties involved in any purchase made through our website. We recommend double-checking addresses before submitting an order just in case there have been any changes since last time an address was used with us. This way everyone knows exactly where their package is headed once it leaves our hands, making sure nothing gets lost along its journey towards its final destination: your doorstep.
When ordering from Printed Memories Custom Stickers, it is important to consider the shipping details for your order. Now let's move on and discuss how to care for your luggage sticker so that you can enjoy its beauty for many years.
Key Takeaway: At Printed Memories, we offer a range of shipping options to get custom stickers delivered fast and safe. With our tracking services on all packages, customers can have peace of mind that their order will arrive as expected. We also provide discounted rates for bulk orders so everyone can benefit from reliable yet affordable delivery services.
How to Care for Your Luggage Sticker
Caring for your luggage sticker is key to making sure it lasts and looks great on all of your travels. Here are some tips to keep in mind when taking care of your Printed Memories custom stickers:
Clean Regularly:
Keeping your sticker clean will help maintain its vibrant colors and extend the life of the adhesive. To do this, use a damp cloth with mild soap or a non-abrasive cleaning solution like window cleaner. Make sure you don't scrub too hard as that can damage the surface underneath. After wiping down, let it air dry before applying any other products or treatments.
Protect from Sun Damage:
Direct sunlight can cause fading over time so make sure you protect your sticker from UV rays by keeping it out of direct sunlight when possible or using an outdoor sealant if necessary. This will also help preserve its color and prevent cracking due to temperature changes throughout the day.
Store Properly:
When not in use, store your sticker flat in a cool, dark place away from moisture and heat sources such as radiators or windowsills which could cause warping or discoloration over time. If storing long-term be sure to wrap it up securely with bubble wrap or plastic sheeting for extra protection against dust particles that may collect while stored away in drawers or cupboards etc
Take care to not scratch, scrape, or rub your sticker against abrasive surfaces such as concrete which can wear away the print quality and dull the colors faster than usual. Additionally, keep it away from chemical substances like paint thinner as they may have damaging effects on both paper stock and adhesive backing materials used in production of Printed Memories custom stickers. With a bit of precaution and maintenance you'll be able to enjoy its vibrant colors for many trips to come.
By following these simple steps you should be able to ensure that no matter where life takes you - whether near home base or across oceans - your personalized luggage stickers remain looking their best. With regular maintenance they should last many years without needing replacement, so why not start collecting today?
Proper care of your sticker will ensure that it remains vibrant and attractive for years to come. Collecting Printed Memories stickers can be a great way to express yourself and show off your unique style.
Key Takeaway: With a bit of care and maintenance, your Printed Memories custom stickers can remain vibrant for years to come. Keep them away from harsh UV rays and abrasive surfaces while storing in a cool dark place. This way you'll be able to enjoy the fruits of your labor - expressing yourself with personalized luggage stickers - on all of life's adventures.
Benefits of Collecting Printed Memories Custom Stickers
Collecting Printed Memories custom stickers can be a great way to express your personality and show off your style. With the many design options, you can make each place a reflection of your own personal flair. Not only are these stickers enjoyable to accumulate, but they also offer several advantages that make them an ideal selection for any collector.
Style:
Stickers from Printed Memories offer a range of designs and styles so you can customize your luggage in whatever way you like. Whether it's classic or contemporary, there's something for everyone – no matter their style preference. Plus, because the sticker material is waterproof and UV-resistant inkjet printing ensures that the image quality remains sharp even after years of use.
Durability:
The durable vinyl construction makes sure that these stickers last longer than paper ones – perfect if you want to keep them as souvenirs from past trips. This means that they won't fade or peel over time either so they will always look as good as new when applied on luggage or other items.
Gifting:
If you have friends who are also into collecting stickers then why not give them some Printed Memories custom ones? They make great gifts since each design has its own unique appeal which makes it stand out among other collections. Plus, with such high-quality materials used in production process rest assured knowing that your gift will last long enough to bring smiles whenever it's seen again.
Inspiration:
Collecting printed memories custom stickers is an easy way to get inspired by different destinations around the world without having to leave home. From famous landmarks to hidden gems - each sticker captures a moment in time making it easier for collectors to remember where they've been and plan future trips accordingly.
In conclusion, collecting Printed Memories custom stickers offers many advantages such as being able to express yourself through creative designs, durability, gifting potential, inspiration for future travels and much more. Therefore, don't wait - start building up your collection today and unlock all these amazing benefits now.
Key Takeaway: Collecting Printed Memories custom stickers is a great way to showcase your personality, as they come in an array of styles and sizes. Not only that but these high-quality vinyl designs are also waterproof and UV-resistant for maximum durability, making them the perfect gift or souvenir from any destination. So don't wait - start expressing yourself through creative designs today with Printed Memories custom stickers.
FAQs in Relation to Expressing Your Personality With Custom Hand Drawn Stickers on Your Luggage
Is it okay to put stickers on your luggage?
Absolutely, you can decorate your luggage with stickers! Yet it is smart to check if any airline or transport agency has regulations against adorning suitcases and bags. Certain sticker materials may cause damage; so before affixing a single one, verify that no policies prohibit the practice. For an added layer of protection for your items in transit, consulting an airline representative first would be wise - after all, safety comes first!
What are luggage stickers for?
Luggage stickers are a unique way to add personalization to your bags and make them easier to spot in busy airports. Their adhesive backing easily attaches to any hard surface such as suitcases or backpacks. Not only do these stylish decorations bring pizzazz, but some also come with additional features like RFID tags for extra security against theft and tracking of lost items. Enjoy the convenience of customizing your luggage while traveling with ease! Personalized stickers are an ideal way for travelers to make sure their belongings stay safe during travel while adding some unique flair at the same time.
How to personalize your luggage?
Personalizing your luggage is an easy and fun way to make it stand out from the crowd. Start by choosing a color or pattern that reflects your personality, then add accessories like tags, straps, and charms to give it some extra flair. You can also use stickers to create unique designs on the surface of your bag; choose ones with meaningful words or images for added impact. Finally, consider adding custom labels with your name and contact information in case you ever lose track of it during travel. Create an eye-catching and memorable bag with these tips, making it easy to identify should you ever misplace it.
What do people use stickers for?
Stickers are a trendy way to flaunt one's flair and character. They can be used for decoration, collecting, trading or simply expressing oneself. Stickers are often used on phones, laptops, walls and other surfaces as decorations. People also use stickers in scrapbooking projects to add color and texture to their memories. Some people collect stickers from different places they visit or events they attend as souvenirs of their travels. Others trade them with friends or family members in order to get the rarest designs available. Finally, some people just enjoy looking at sticker collections for inspiration when creating artworks of their own.
Conclusion
Custom hand drawn stickers from Printed Memories allow you to express your personality and make each destination unique. With the perfect shape, size, style and image quality for your luggage sticker - all with easy shipping details - it's never been easier to show off who you are while on-the-go. Collecting custom hand drawn stickers is a great way to add more color into your life, so why not start today? Express yourself in an original way with Printed Memories Custom Stickers.
Discover the perfect way to express your personality and make a statement with Printed Memories Custom Stickers. With our comprehensive selection of hand drawn stickers, you can easily find something that reflects who you are and add it to your luggage for an eye-catching look.