7 Awesome Ideas for a Family Photo Book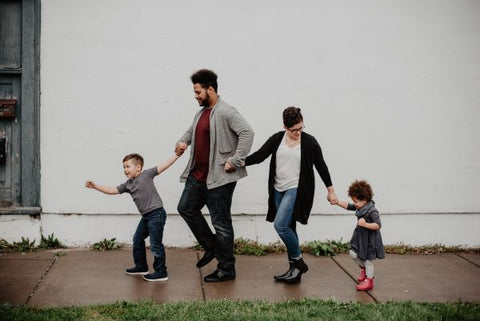 There's nothing more important than our families. They may get on our nerves sometimes (or most of the time), but they're always here for us when it counts, and that's what matters. The best thing about families is that every single one is unique, and they all have a story to tell. Whether your family has quirky aunts or uncles, funny grandparents, or an abundance of cousins, they all have special family memories to share, often passed down from generations.
Celebrate your family story with a family photo book.
What Are Photo Books?
Unlike the traditional photo album, a photo book allows you to upload photos straight from your phone or computer gallery. Most book-building sites also feature an option to connect to social media, which, as everyone knows, holds a myriad of family photos. (We're looking at you, Facebook!)
Photo books put creativity at your fingertips, but they aren't difficult to make.
Family photo albums are perfect for every single occasion. They're not just a wonderful way to save your own memories; they also make thoughtful gifts for other family members. Finding the best photo album to create is the tricky bit.
Family Photo Album Ideas
Finding inspiration for the perfect family photo album theme can be a daunting task. But whether you're looking for something unique, funny, or sentimental, we'll help you find the best family photo book idea for all your treasured memories.
FAMILY YEARBOOK
A yearly family photo book is the perfect annual tradition for celebrating the whole family and documenting your family life. It's one of the best photo book ideas for big families with many family members to celebrate.
Dedicate a page (or a few pages) to each family member. From siblings to your parents and grandparents, make sure everyone is included. Watch each photo book grow every year as you welcome new members and generations, from new spouses to new babies. You'll never forget to celebrate a single member. The only problem is knowing where to put all your books!
FAVORITE FAMILY MEMORIES PHOTO BOOK
Save all types of moments with this family photo book, from days spent with your crazy aunt to the cousins you only see during the holidays. You can save an abundance of special family moments and turn them all into a special keepsake you'll treasure forever.
This type of family photo book is perfect for saving moments from those all-important family get-togethers, such as milestone birthdays, graduations, weddings, and more. It's the ideal book for gathering around the fireplace and reminiscing about the days you've spent together. This family photo book idea also makes a great gift for senior members of the family, such as your grandmother.
VACATION ALBUM
This idea is great for celebrating those unforgettable family vacations. Whether you spent every day relaxing at the beach, building sandcastles, or discovering all the beauty your destination had to offer, save every second. No more awkwardly scrolling through Facebook to find all your holiday snaps - you'll have all your favorite memories in one place.
PET PHOTO BOOK
Any pet owner knows our pets are as much a part of our family as anyone else. Whether you have a cat, dog, rabbit, or even a snake, they all deserve to be celebrated. Put all your favorite shots of your pets in one place.
NEW BABY PHOTO ALBUM
This is the perfect family photo book idea if you've just had a new addition to the family. Celebrate all those early days and special moments with this family photo book theme, so you never miss a second spent with your new baby.
This type of photo book makes a great gift for new aunts and grandparents.
FAMILY MILESTONE PHOTO ALBUM
Celebrate Important Milestones
Families are always here to celebrate those all-important family milestones. From graduations to wedding days, this is a great album idea to capture and showcase all those special moments.
This is another great gift idea and is a wonderful way to show how proud you are of your relatives.
CHRISTMAS PHOTO BOOK
The holidays are a time for family; you can't escape Christmas without at least one family meet-up. So why not create a Christmas photo book of all the holidays that have come before? What's more heartwarming at Christmas time than a photo book filled with photos of your loved ones?
A Christmas photo book makes a great holiday gift! Fill it with your favorite photos and print multiple, so you can gift one to different members of the family.
THE PERFECT GIFT
A family photo album is the perfect way to save all those special family moments in one place. Fill the pages with your favorite family photos to create a great gift for any family member. They make great Christmas, Thanksgiving and birthday gifts. With photo books, you can print out multiple copies to gift to all your relatives.
Other Photo Book Themes
Looking for a different theme?
Family tree photo book:

Dedicate a page for each family member and watch your family tree unfold in print form.

Family heritage photo book:

With a little research and a lot of time, you can explore all the generations that came before you. Where better to put them than in a photo album?

Family day out photo book:

Take inspiration from those family days out, and create a book you'll all treasure for years to come.

Family recipe photo book:

Get inspired by those delicious family recipes and fill the pages with pictures of your favorite foods.

Schools days photo book:

This cute idea is perfect for the kids. Focus on the first day of school, or fill the pages of the entire school journey. It's a book your child will treasure forever.

College photo book:

Turn all the hard work your loved ones have put into getting their degree into a celebration of their achievements with this album idea.

Found family photo book:

Sometimes, family looks a little different. Fill the album with images of your friends, creating something that will surely bring tears to their eyes.
Final Few Tips
The most important thing to remember about a family photo book is that it should be unique to your family. Most photo book builders have options to add dates and captions. Write special messages or inside jokes that no one outside your family will understand. You can also customize your photo book with page layouts, photo orders, and more.
Printed Memories Photo Books
When you choose to save your special family moments with Printed Memories, you're not just getting amazing quality, excellent customer service, and a super-easy process. You're also doing your part to help the environment. Printed Memories plants one tree for every photo book ordered, helping to protect the planet for generations to come.
Click here to sign in and save your memories with Printed Memories.