Ten Creative Storage Photo Book Ideas To Brighten Any Home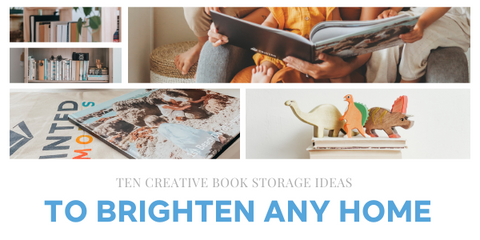 We all want to remember our best moments in life. It's why we fill our walls with a plethora of picture frames and our refrigerators with an abundance of magnets from trips away. We're all looking for moments we can hold onto forever; a wonderful keepsake for when life moves on and we forget.
Photo books are a perfect way to safeguard your favorite moments. They turn your beloved photos into a beautiful keepsake that you'll be able to cherish forever. Not only that - you can make photo books for countless occasions and reasons, from weddings to anniversaries, graduations, and so much more. 
But before you go photo book mad, there's only one problem... 
Where will you possibly keep them all? The last thing you'll want to do is hide them away.
Don't worry - we've got just the solution. Here are 10 photo book storage ideas that'll brighten any home.
1. Color-Coded Bookcase
Bookcases are a perfect addition to any home. They make you look experienced and well-read, even if you haven't gotten through half the books on your shelf (guilty, as charged!). And for the design-conscious of us all, there's an easy way to make your bookshelf look even more aesthetically pleasing. 
We're talking about color-coding.
Group books in the color of their spines; put blues, reds, and yellows together. If you're feeling particularly creative, go for a gradient and make each color blend into another. For example, blues should merge into greens, greens can melt into yellows, and yellows into oranges. It'll be sure to draw anyone's eye. (And give them a serious case of bookshelf envy!)
Why not choose similar color pallets for your photo books? That way, you can keep all your photo books together, rather than losing them in the rest of your book collection.
2. The Coffee Table
If you're someone who wants all eyes on your photo books, then the coffee table is the perfect place to store them. Guests can flip through while you're getting the coffee ready.

This is especially good if you have a big family, too. Keep photo books of trips away, anniversaries, or family reunions handy, so your favorite photos are always right there, ready for reminiscing.

This is also a great choice if your old coffee table is looking a bit dull and you want a way to brighten it up. Photo books will give your table the personality you've been looking for.

3. The Mantelpiece
This is another great idea if you want all eyes on your photo book. Why not place the book amongst other meaningful decorations and ornaments? Or lean it back against the wall, so the front cover is on display? This choice is especially perfect if the color of your photo book happens to match your living room - it'll look right at home.

But even if the colors do clash, what better way to draw the eye?
4. A Book Tree
If you're looking for a storage idea with a bit of personality, or you're feeling uninspired by boring bookcases and stale shelves, then this is the one for you. Much like real trees, book trees come in all shapes and sizes. You can choose the one that's right for you, depending on how many books you own (or plan to make).

Are you looking for a particularly leafy tree? Don't just reserve it for photo books - combine them with all the other books you own!
5. A Book Ledge
Book ledges are exactly what they say on the tin - a ledge for your books. However, unlike more traditional bookshelves, these are narrower and built to show off the front cover of books rather than the spines. This makes them particularly useful for photo books. If you spent a lot of time deciding on which picture to use as the cover of your photo book, or if you picked a photo particularly close to your heart, then you'll want it on display.

Book ledges are also an excellent storage idea if you don't have a lot of space. As long as you have walls (and we're assuming you do), your photo books won't clutter up what little space you have.

6. A Leaning Bookcase
Much like the book tree, this is so much more creative than a bookcase or shelf. These bookcases have a ladder-like appearance that stays up all by itself (magic!) You can use leaning bookcases to house all sorts of things, such as plant pots, ornaments, make-up, and - of course - books. This is another great idea if you don't have a lot of storage space or need to save wall space. These designs look particularly chic in city apartments.
7. Bookends
If you've found the perfect place for your photo books, but they keep tumbling down, then we have just the tip for you!

Try out bookends. You can put your photo books anywhere you like without worrying about that dreaded domino effect.

It's also another quirky option if you're looking for something more creative. You can purchase a range of unique, one-of-a-kind bookends from places like Esty, where you're sure to find something that no one else has.

Bookends are also good if you don't have enough books to warrant a whole bookcase or if you'd like to group your books together.
8. Cube Storage
Cube storage is perfect if you happen to have a plethora of things to store and want to mix and match; you can group different items together in individual cubes. Why not use a whole cube for your photo books? Or three... or four... (hey - we're not judging!) That way, you'll always know where they are; they won't get lost amidst all your other books.

Cubes are also a great idea for sloping or low ceilings; you can tuck them under stairs, in attic bedrooms, and other places where a typical bookcase just won't fit.
9. Floating shelves
Floating shelves look good in any apartment. They make super easy DIY projects; you can customize them to suit your apartment aesthetic and bring some more personality into your home.

This is also another perfect idea for homes struggling with minimal storage.
10. Display Cabinet
Display cabinets are great for storing all kinds of things - from glasses, vases, and ornaments. Photo books are no exception. There are many different types and styles of display cabinets to fit your aesthetic and storage space. They're just waiting for you to come and pick them up!

Every memory you choose to cherish deserves complete care. Display cabinets are perfect if you're looking for a bit of protection for your photo books but still want to show them off. You don't have to hide them away when you have a display cabinet.

There you have it. With all these storage tips and tricks, you'll never worry about storing your photo books again! So why not go ahead and make one right now? After all, you know exactly where to store them.