The 8 Best Birthday Photo Book Ideas To Wow Your Loved One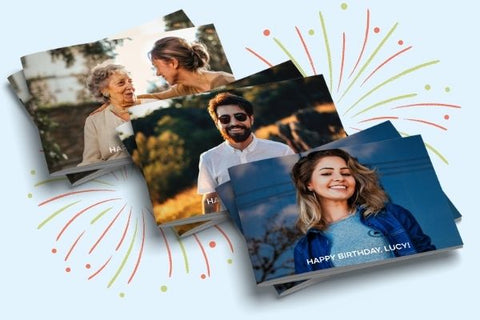 Our loved ones are special, and so are their birthdays. But sometimes, inspiration dries up, and it can be hard to find that perfect gift to show them exactly how much they mean to us. So whether you're looking to build a birthday photo book for a family member, a friend, your partner, or someone else entirely, it makes the perfect birthday gift. This touching gift comes straight from the heart and will say everything you need to within the pages.
What Are Photo Books?
Not unlike a traditional photo album, photo books provide a safe place for you to keep and save your favorite photos forever. However, unlike photo albums, photo books are easier to make. Instead of printing each photo yourself, you upload photos directly into the book builder from your phone, computer, or tablet. This way, all the hard work is done; all you have to worry about is which photo to pick as the front cover.
Why Photo Books?
It's true what they say - one image is worth a thousand words. Custom photo books are the perfect way to show your loved ones how much they mean to you. They put creativity at your fingertips, helping you design a gift that's tailored perfectly to them. There's no need to wonder whether they'll like the gift you got them - you know they will.
Many photo book builders offer different layouts, background colors, text, and more, so you can make a book that will suit your loved one down to the ground. You can insert captions, leave little notes, and add quotes. Most photo book sites also offer a digital download as well as a print copy, so your loved one can keep their special memories close wherever they go.
But, with so many ideas, what type of photo book is right for them?
Custom Photo Book Ideas
One of the best things about photo books is that you can make a million different types. From Mother's Day to family history books, no two photo books are the same. But, with all the possibilities, it can be difficult to know what type of photo album is best for your loved one.

Photo books are our specialty. We've compiled some of the best photo book ideas for you to browse through. So whether you want something funny, sentimental, or something else entirely, you'll find inspiration to create the perfect birthday photo book for your loved one.

1. A TIMELINE OF THEIR LIFE
Take a trip down memory lane with a timeline photo book. Capture every magical moment, from the day they were born, up until now. Whether they're turning 20, 50, or even 100, this type of photo book never goes out of style. Celebrate unforgettable moments spent with their friends, family, and anyone else who has touched their lives. (And yes, we 100% think you should include all those embarrassing baby pictures).
2. A BOOK OF ALL THEIR LIFE ACHIEVEMENTS
From that first terrifying day of school to the day they graduated, document all those amazing life moments and turn them into a special birthday keepsake they can cherish forever.
Some ideas include:
The day they were born

The day they took their first steps

Their first day of school

Projects they've completed

Their graduation

Their first job

Sport milestones

Their wedding day

The day they moved into their first house

The birth of their baby

Other milestone birthdays
But it doesn't have to be as eventful as a wedding day or as unforgettable as the day they landed their dream job. Small moments are just as important. If it's special to them, you can guarantee they'll want it in their photo book. This is a book they'll be proud to display. And, if ever they're feeling down in the dumps, this book will serve as a perfect reminder of all they've accomplished so far.
3. A BOOK OF ALL THEIR MOST EMBARRASSING PHOTOS
Whether you're looking to get one over on your friend, or you just want to make them smile, this is a great photo book idea. Fill each page with baby photos, embarrassing pictures of them asleep, or awkwardly timed snap shots that'll make them want to hide with embarrassment. 
Although a less touching theme than traditional birthday photo books, this is a fun idea for someone with a huge sense of humor. And you can be sure they'll never forget it!
4. A BOOK OF THE PEOPLE THEY LOVE (AND THOSE WHO LOVE THEM!)
Is there a better way to show someone how loved they are than with a photo book filled with the people who love them? Your family photos can include all the family members they love (and even the ones they might want to avoid at times), from parents and grandparents to annoying cousins. Include photos of their friends - or images of anyone who makes them smile - and create a birthday book that'll always be there to cheer them up. (Don't forget the family pets!)
5. A BIRTHDAY ALBUM THAT TELLS A STORY
Got a crazy trip away or a fun day out? Unlike traditional photo albums, photo books allow you to add text and dates to your images. So why not illustrate a story? Get creative and turn those blank pages into a personal keepsake that'll make them smile, laugh or even cry with every turn of a page.
6. A PARTY PHOTO BOOK
This is a great theme if you're looking for something personal to remember that special day forever. Whether you're looking to save snap shots of a special party, a night out with your friends, or an exclusive event your family planned, never forget a single moment of the occasion with a party book.
7. A YEAR IN REVIEW BOOK
8. AN ALL-ROUNDER PHOTO BOOK
This type of birthday book is perfect for when the fun times just keep on coming. Capture big and small moments with an all-rounder photo book. Include a little bit of everything, from milestone memories to shots of their favorite people, photos of their family, and all their special accomplishments. 
Fill the pages with projects they're proud of or photos of their fave things. Use the captions to add special messages or details to each photo. Sprinkle a little bit of everything into the pages and create a birthday album they'll never forget.
Looking For Even More Photo Book Inspiration?
We get it - there's a lot to celebrate. And once you start creating photo books, it can be difficult to stop. So if you're looking for even more photo book ideas, why not consider these?
Wedding photo book

Anniversary album

Friendship photo book

Honeymoon photo book

Facebook or Instagram photo book

Graduation photo book

Vacation photo book

Family reunion photo book

Mother's Day photo book

School photo book

Pet photo book

Baby photo book
Printed Memories Birthday Books
Printed Memories makes custom photo books for every single occasion. It's our job to ensure special moments never go missing, which is why we'll help you document your favorite memories in a keepsake that'll last for lifetimes to come. Upload photos from Facebook, Instagram, or your camera roll, pull in captions and dates and experiment with an array of customizable options. Creating a photo book has never been easier.
Just sign in to get started and preview your book for free.