The 5 Best Photo Books to Show Off on Your Coffee Table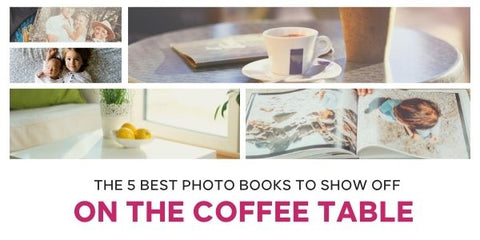 Photo books are the perfect way to store precious memories you don't want to hide away on your phone. Not only that - there's never a limit to how many photo books you can make. And considering you can create a photo book for every single occasion imaginable, why would you want to stop?

The only problem is where to put them.

If you don't want to hide your photo books away on your bookshelf, why not put them in pride of place on your coffee table? Not only will they be on display for everyone to see, but they'll also be at arm's length for you to relive your memories whenever you feel like it.

Here are the five best photo books for the coffee table.
1. The All-Rounder Photo Book
Create Your All-Rounder Photo Book
Photo books are perfect for holding onto special memories. Maybe you want a summary of the year, complete with your best bits, from the friends you made to the places you went.

The All-Rounder is also great when you have lots of special photos, but you don't know where to put them. There's no rhyme or reason to the pictures; they're just snippets of memories plucked right from your Instagram feed or Facebook page.

All-Rounder photo books also make good birthday books, too! So if you can't think of a theme or you just want to cherish special memories, this one is for you. It's a photo book that'll garner the famous, 'Wow - do you remember that?' comment every time you look through it.
2. The Family Reunion Photo Book
Build Your Family Reunion Photo Book
This is the perfect photo book to leave out on the coffee table when you have family visiting. Whether you're hosting a dinner party or a quick catch-up, this photo book will keep the family entertained as you reminisce about all the special memories you created together. Your guests can busy themselves looking through it while you check on dinner or fill the coffee pot.

This one makes a great Thanksgiving or Christmas gift!
3. The Vacation Photo Book
Everyone loves talking about their trips away and sharing snaps. And where better to put them than in a photo book? You no longer have to sift through your Instagram feed or dust off that old Facebook vacation album. Instead, all your favorite memories are within reach.

If you want to show off your holiday snaps, this is the perfect book - you'll have the pictures ready to illustrate the stories you tell.
4. A Wedding or Anniversary Photo Book
Create Your Wedding Photo Book
Whether you've been married for one year or fifteen, a wedding or anniversary photo book will put a smile on your partner's face. Put it on the coffee table as a chance to reminisce together about your wedding day, knowing you still have the rest of your lives to go.

(Tip - this photo book makes the perfect Valentine's gift!)
5. A Mother's Day or Father's Day Photo Book
Create Your Father's Day Photo Book

Why wouldn't you want a whole photo album dedicated to the memories that mean the most to you? If your kids made it, even better! Show them how much you appreciate their thoughtful gift by laying it out on the coffee table for everyone to see.

There aren't any rules for which photo books deserve pride of place on the coffee table; it all comes down to personal preference. The great thing about memories is that we all have different ones, and they're all special to us for different reasons. So why not celebrate your pets, or your friendships, too? As long as you know your photo book will make you happy, that's all that counts.

Build your photo book now and decorate your coffee table with memories you're proud to share.