10 Cute Photo Album Ideas To Make Your Heart Melt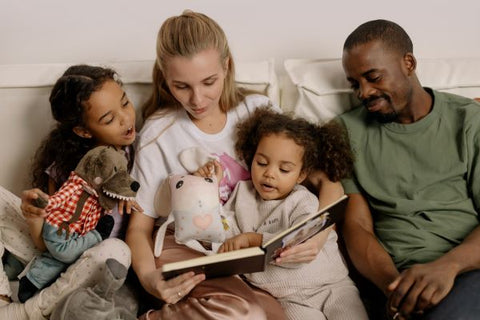 Why Photo Books?
Photo books or albums are the perfect way to save special moments. You can take all your favorite photos and turn them into a beautiful photo album you can cherish forever. And the best part? They're so easy to make! Freedom is at your fingertips. Design as many DIY photo albums as you want and fill your shelves with your favorite memories. Whenever you feel like a walk down memory lane, all you have to do is pick one up.
But finding a place to start can be hard, especially if you want to theme your photo books. But don't worry! We have 11 cute DIY photo album ideas that will warm your heart.
Looking for another way to save memories? Check out our Star Maps and our Where We Met Maps.
Baby Photo Album
If you're looking for a super adorable DIY photo album, it doesn't get cuter than this. A baby photo book is a perfect way to save special memories of your little one. Save that initial moment when they first came into the world, create a 'Baby's First Year' photo album, or why not create a photo book documenting all your baby's firsts. There are so many creative ideas out there when it comes to baby photo books.

A baby photo book also makes a great gift for new parents. Surprise a new mother or father with a unique keepsake of their child they can treasure forever.
Looking for the perfect caption quotes for new parents? Say everything you need to with our quote ideas for a new mother or a new father.

Pet Photo Album
It's true - our pets are just like our children. So why not create a photo album to celebrate all the things you love about them? Fill this DIY photo book with your favorite photos of you and your pet. The possibilities of a pet album are endless - create a Puppy Love photo book or something to celebrate just how darn adorable your cat is.
Psst... this DIY photo album idea makes a cute gift for any pet lover. Fill it with their fave photos of their pet; they'll never forget it.
Summer Photo Album
Pastel blue skies, vanilla ice cream, coconut sun cream... there's nothing cuter than summer. Capture all your summer memories in a DIY photo album designed especially for that warm summer season. Even if you only have a few Instagram or Facebook snaps at the beach or in your best sunglasses, why not limit the number of pages and create a summer mini photo album?

Childhood Memories Photo Album
This is a creative photo album idea for saving all those memorable moments from your childhood. From those school days to trips you took with your parents, save all those important memories you never want to forget, creating an awesome physical photo gallery you can reach for every time you want a trip down memory lane.
Why not create a vintage photo album full of your parents' or grandparents' memories?
Family Trips Photo Album
This makes a good scrapbook for the whole family. From trips to the beach to your first holiday abroad together, save your favorite pics all in one place. Why not print several and give one to each of your family members? They'll always have a physical reminder of the time you spent together and the amazing memories you made along the way.
DIY Travel Album
If you're someone who loves to go traveling, this is one of the best DIY photo albums for you. There are a million different types of travel photo albums to create; why not fill one with all the different foods you've tried? Or, if you tend to travel a lot, why not create a different photo book for each destination? It'll be the ultimate brag book to show off to your friends and family.
If you're looking for a fun DIY project, why not get super creative and create a ticket or postcard photo album? Rather than creating a photo book with all your photos, scan in all your tickets or postcards from each place you've been. You'll have a memory book that'll last a lifetime (even if you lose the physical copies of the postcards!)
Sibling Photo Album
It doesn't get cuter than this unique photo album. If you love your siblings and want to celebrate your relationship, a photo book is the perfect way to do it. Not to mention, it's the perfect gift for Mother's Day. (Warning: you may need to get her a box of tissues, too!)
Couples Photo Album
If you're looking for an adorable way to celebrate your and your partner's love story, a couples photo album is the perfect way to do it. Create a beautiful montage of your love, and save precious memories you want to treasure forever, from the night you met for the first time up to your wedding day. This cute DIY photo album would make a lovely engagement gift or Valentine's present.
Grandparents Photo Album
If you're looking for cute and easy album ideas to give as gifts, a Grandparents photo album is the way to go. Fill the pages with photos you know your grandparents (or your children's grandparents) will love. This scrapbook album makes the perfect gift for your grandmother on Mother's Day.
School Year Photo Book
This is a great DIY photo book to celebrate a fun school year. There are so many possibilities with a school album. You can create a beautiful album full of your university memories or memories from graduation.
This is also a great idea if you're the parent of young children. Celebrate their first official year at school with this cute album.
DIY Project Photo Album
If you're someone who loves creating projects, this is the perfect idea for you. Whether you're into DIY home decor, paper crafting (such as making paper flowers, patterned papers, or origami animals), or even clothes, compile it all in one place. Why not create a mini origami photo album or a creative photo album full of your favorite paintings? It'll be the ultimate brag book to showcase your talent.
Other Photo Album Ideas to Make Yourself:
Mini albums
DIY flip photo album
Folding envelope mini album
Photo scrapbook album
Printed Memories Photo Albums
Printed Memories has a range of DIY photo album ideas to suit your every need. So whether you're looking for cute photo album ideas to celebrate your children, your relationship, or even your pets, you can do it all.
Printed Memories also plants one tree for every photo book they print. This means you can print guilt-free without worrying about what cost protecting your memories has on the planet. Sit back, relax and let all those creative ideas flow.