50+ Quotes and Sayings To Complete Your Star Map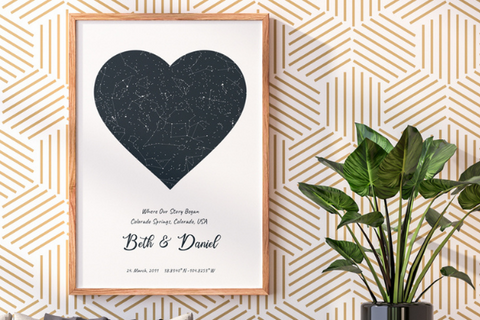 A custom star map makes the perfect gift, either for yourself or your loved one, for any special event or occasion. Star maps aren't just a beautiful art print of the night sky, and each star map doesn't just hold what looks like a hundred billion galaxies - they also hold a special memory you want to keep close to your heart. They offer a replica of the night sky when that special memory unfolded, making each map individual to the person who creates it. 
They're the perfect way to save a special memory and turn it into a keepsake that will last a lifetime.
Why a Star Map
Star maps make a beautiful gift for a range of occasions. So whether you want to save that perfect night when your baby was born or when your partner proposed, a star map is the perfect way to do it. They make beautiful birthday, holiday, and anniversary gifts. 
But, once you've decided on the special memory to save, chosen the map design, and even picked out a frame, you might find there's one thing missing: that perfect quote.
Choosing the Right Words
Not everyone is a wordsmith, and choosing the perfect quote can be tricky.
If you're looking for a little inspiration for your new star map, these quotes are sure to get those creative juices flowing. Sometimes all you need is just a word or two to tell someone exactly how you feel.
Birthday Star Map Quotes
Star maps make beautiful birthday gifts. Celebrate that special day your loved one was born with these inspiring birthday quotes.
"Count your age by friends, not years. Count your life by smiles, not tears." -

John Lennon

"Old age is like everything else. To make a success of it, you've got to start young." -

Fred Astaire

"We turn not older with years, but newer every day." -

Emily Dickinson

"Whatever with the past has gone, the best is always yet to come." -

Lucy Larcom

"Every age can be enchanting, provided you live within it." -

Brigitte Bardot

"Old age is like a plane flying through a storm. Once you are aboard, there is nothing you can do about it." -

Golda Meir

"Happy birthday to the only person I would rescue in the event of a zombie apocalypse." -

Unknown

"Our wrinkles are our medals of the passage of life. They are what we have been through and who we want to be." -

Lauren Hutton

"The greatest gift of life is friendship, and I have received it." -

Hubert H. Humphrey

"Celebrate your journey of life." -

Lailah Gifty Akita

"Every day of life is an adventure. Don't fear to dare and never forget to enjoy it." -

Debasish Mridha

"Life is a journey, not a destination." -

Unknown
Romantic Star Map Quotes
Custom maps make the perfect wedding day present or anniversary gift. These romantic gifts help you turn a memory into a special keepsake you can both treasure forever. You may be looking to save the memory of your first kiss, the first night you laid eyes on each other, or something else entirely. Sometimes, love begins at first sight, and we'll help you find the perfect message that will sum up how you feel.
"You know you're in love when you can't fall asleep because reality is finally better than your dreams." -

Dr. Seuss

"I need you like a heart needs a beat." -

Unknown

"If I had a flower for every time I thought of you… I could walk through my garden forever." -

Alfred Tennyson

"If you live to be a hundred, I want to live to be a hundred minus one day so I never have to live without you." –

A. A. Milne

"The best thing to hold onto in life is each other." -

Audrey Hepburn

"It's always better when we're together." -

Jack Johnson

"I love you and that's the beginning and end of everything." -

F. Scott Fitzgerald

"Where there is great love, there are always miracles." -

Willa Cather

"I love you to the moon and back." -

Unknown

"Love looks not with the eyes, but with the mind, and therefore is winged Cupid painted blind." -

William Shakespeare

"You may hold my hand for a while, but you hold my heart forever." -

Unknown
Newborn Baby Star Map Quotes
There's no better way to welcome a new baby home than with a custom star map. Take this special moment when your life forever changed and turn it into a keepsake you can pass down to your child when they're older. 
Celebrate the day you started your greatest adventure with the right words.
"Like stars are to the sky, so are the children to our world. They deserve to shine!" –

Chinonye J. Chidolue

"There are no words that can describe the euphoria you feel when your baby recognizes you for the first time and smiles." -

Jared Padalecki

"Words are not enough to express the unconditional love that exists between a mother and a daughter." –

Caitlin Houston

"A baby is as pure as an angel and as fresh as a blooming flower." –

Debasish Mridha

"If I have a monument in this world, it is my son." –

Maya Angelou

"Children bring us a piece of heaven on earth." -

Roland Leonhardt

"A daughter is one of the best gifts this world has to give." –

Laurel Atherton

"For all the things my hands have held the best by far is you." -

Unknown

"No daughter and mother ever live apart, no matter what the distance between them." –

Christie Watson

"Let her sleep, for when she wakes she will move mountains." —

Unknown

"The amazing thing about becoming a parent is that you will never again be your own first priority." —

Olivia Wilde

"You know what the great thing about babies is? They are like little bundles of hope. Like the future in a basket." -

Lish McBride

"Every child begins the world again." -

Henry David Thoreau
Newly Wed Star Map Quotes
Your wedding day is sacred, and so are the memories you'll continue to make as you start your new life together. Celebrate your new husband or wife and that magical day the stars aligned with these beautiful newly wed quotes.
"I would rather share one lifetime with you than face all the ages of this world alone." -

J. R. R. Tolkien

"Love recognizes no barriers. It jumps hurdles, leaps fences, penetrates walls to arrive at its destination full of hope." –

Maya Angelou

"We loved with a love that was more than love." -

Edgar Allan Poe

"Love never gives up, never loses faith, is always hopeful, and endures through every circumstance." -

1 Corinthians 13:7

"The secret of a happy marriage remains a secret." -

Henny Youngman

"Marriages are like fingerprints; each one is different and each one is beautiful." -

Maggie Reyes

"It is such a happiness when good people get together—and they always do." -

Jane Austen

"Happy marriages begin when we marry the ones we love and they blossom when we love the ones we marry." -

Tom Mullen

"Reader, I married him." - 

Charlotte Bronte

"There is no more lovely, friendly, and charming relationship, communion or company than a good marriage." - Martin Luther
Anniversary Star Map Quotes
You've searched the web for the best anniversary gifts, and now you need something a little more creative to say than 'Happy Anniversary.' These quotes are the perfect solution. Let them sum up your love story, whether you've spent five years together or 50.
"The secret of a happy marriage is finding the right person. You know they're right if you love to be with them all the time." -

Julia Child

"Some people care too much. I think it's called Love." -

A. A. Milne

"The only people who never have differences with their spouse are people who don't have a spouse." - Ngina Otiende

"The secret of a happy marriage is finding the right person." -

Julia Child

"How do I love thee? Let me count the ways." -

William Shakespeare.

"For the two of us, home isn't a place. It is a person. And we are finally home." -

Stephanie Perkins

"You are my today and all of my tomorrows." -

Leo Christopher 

"Love is like a friendship caught on fire." -

Jeremy Taylor

"In case you ever foolishly forget: I am never not thinking of you." -

Virginia Woolf

"A great marriage is not when the 'perfect couple' comes together. It is when an imperfect couple learns to enjoy their differences." -

Dave Meurer

"No relationship is all sunshine, but two people can share an umbrella and survive a storm together." -

Unknown

.

"I love you more than coffee, but please don't make me prove it." –

Elizabeth Evans

"A happy marriage is a long conversation that always seems short." -

André Maurois

"Every love story is beautiful, but ours is my favorite." -

Unknown

"Grow old with me, the best is yet to be." -

Robert Browning
Father's Day Star Map Quotes
There's nothing more important than family, and the bond between a father and their child is sacred. Let your father know how grateful you are for everyone he does with one of these quotes. 
"The heart of a father is the masterpiece of nature." -

Antoine François Prévost

"The older I get, the smarter my father seems to get." -

Tim Russert

"A girl's first true love is her father." -

Marisol Santiago

"Dad: A son's first hero, a daughter's first love." -

Unknown

"A man knows when he is growing old because he begins to look like his father." -

Gabriel Garcia Marquez

"No one in this world can love a girl more than her father." -

Michael Ratnadeepak

"My father taught me to work hard, laugh often, and keep my word." -

Michelle Obama

"When you're young, you think your dad is Superman. Then you grow up, and you realize he's just a regular guy who wears a cape." -

Dave Attell

"My father gave me my dreams. Thanks to him, I could see a future." -

Liza Minnelli

"The greatest mark of a father is how he treats his children when no one is looking." -

Dan Pearce

"An almost perfect relationship with his father was the earthly root of all wisdom." -

C.S. Lewis

"A father is someone you look up to no matter how tall you grow." - Unknown
Mother's Day Star Map Quotes
Our moms are here for us no matter what. If you know you have the best mom on the planet, tell her how much you appreciate her. Say Happy Mother's Day with these inspiring Mother's Day quotes.
"The influence of a mother in the lives of her children is beyond calculation." -

James E. Faust

"A mother's love for her child is like nothing else in the world." -

Agatha Christie

"As is the mother, so is her daughter." -

Ezekiel 16:44

"Mother is one to whom you hurry when you are troubled." -

Emily Dickinson

"A mother's love liberates." -

Maya Angelou

"A mother's hug lasts long after she lets go." —

Unknown

"My mother was my role model before I even knew what that word was." -

Lisa Leslie

"A mother is your first friend, your best friend, your forever friend." -

Unknown

"Mother's love is the fuel that enables a normal human being to do the impossible." -

Marion C. Garretty

"A mother's arms are more comforting than anyone else's." -

Princess Diana
Create a Star Map
Our star maps make the perfect gift. Whether you're planning to make one for Mother's Day, or you're looking to turn a romantic moment into a sweet anniversary gift, get started now. After all, you have the right words.
Click here to build your star map.