How To Make a Where Me Met Map in Only a Few Minutes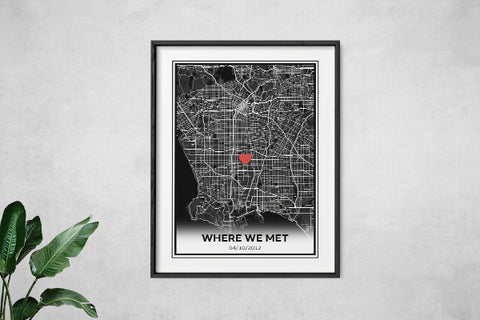 In this tutorial, we show how you can create your very own Where We Met Map of a memorable location, quickly and easily. 
Where is a Where We Met Map?
A Where We Met Map is exactly what it says - a map art print that illustrates the place where you met a loved one or significant other. So whether you ran into each other in the middle of your hometown or met them when you were on vacation, you can turn that special place into a print the two of you can cherish forever.
Printed Memories Maps
Our maps aren't just perfect for immortalizing the place where you met. Save any place that's special to you, whether it's the city your child was born in, the place you graduated, or even the place you and your partner shared your first date! If it's special to you, it's special to us.
Our custom Where We Met maps make the perfect gift for all occasions, including:
Mother's Day
Father's Day
Milestone Birthday
Christening
Birth of a baby
Wedding anniversary
Valentine's Day
And anything else you can think of!
Want to see what the stars looked like on the night you met? Check out our star maps.
How to Make a Where We Met Map
Making a Where We Met Map is as easy as pie. All you need is the special location you want to save (and an internet connection, of course!)
Step 1 - Choose your Size, Framing Option, and Style
These are the first options you'll see when using our map builder.
We offer a range of sizes and framing options to suit you or your loved one's décor. Whether you want a small piece to hang in your home office or a statement print for your bedroom, choose between three stunning sizes.
12" x 16"
18" x 24"
24" x 32"
We also offer two different frame options and four unique map styles; find a style that suits your living space.
Step 2 - Enter Your Location
Your special place could be anywhere, from your favorite city to the town you grew up in. Capture the bustling areas of New York City or the cobblestone streets of Paris. All you have to do is type it in our search box, and we'll find it for you.

Searching for your location will bring up our map preview:
Use our preview to zoom in (or out), move the map where you want it, and focus on a special area.
Step 3 - Choose Your Map Design and Pin
We offer four different map designs and pins to choose from. Opt for a light color or something dark and daring to stand out. Choose the pin that speaks to you, or decide against a pin entirely - the choice is yours!
Step 4 - Personalize Your Map
Printed Memories gives you the option of adding both large text and small text to your Where We Met Map.
Add you or your loved one's names, a special date, a touching quote or an inside joke, or anything else you can think of to make this map truly your own.

So whether you're creating a unique anniversary gift or a special map for a milestone birthday, make your loved one feel extra special with this personal touch.
Step 5 - Add Your Map To Your Cart
Now you've finished creating your map, you can add it to your cart. Make sure to double-check everything is correct on your map - for example, the color or spelling errors. Once it goes to production, you won't be able to edit it.
Wait - There's More!
Here are a few things you should know before turning your memories into something special.
The Printed Memories Promise
Fast and Free Shipping
With a production time of 1 - 2 days and an express shipping time of 2 - 4 days, we can guarantee your fancy new print will arrive at your door in no time.
High Quality-Materials
What's the point of purchasing a print that will fade in a few years? We use high-quality paper and vibrant inks to ensure your print will stand the test of time. That's our promise.
Shop Sustainably
Unlike other printing companies, we're keeping it green. We're an eco-friendly, carbon-neutral company determined to keep our carbon offset low and our quality high. All our handcrafted prints are custom-made to order, reducing waste and energy. We only use the highest quality FSC-certified paper, ethically and sustainably sourced from forests. We also plant one tree for every single Where We Met Map we print.

Build your Where We Met Map now and turn a special memory into a stunning keepsake you can cherish forever.