Get Involved and Give Back: The Duke of Edinburgh Award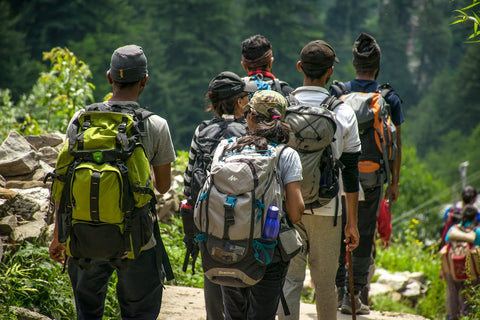 The Duke of Edinburgh Award is a non-competitive, voluntary programme for young people between the ages of 14 and 25 years old. This programme is made up of volunteering, physical, and skills-based activities designed to build confidence and enhance skills outside the classroom.

As the name suggests, the award was originally set up by Prince Philip, the Duke of Edinburgh, in 1956 to support bright young people and help them achieve valuable skills for the future, no matter their ability or background. The DofE award now operates in over 140 countries, helping a range of people to achieve their dreams all across the world. Over 300,000 people participate in the UK alone.

The Duke of Edinburgh Award now partners with a range of businesses, companies and organisations.
The Challenges
The Duke of Edinburgh Award has three main challenges:

Bronze - for ages 14+
Silver - for ages 15+
Gold - for ages 16+

Depending on your age, you can start at any level, but many young people taking the challenge prefer to begin at Bronze and work their way up to the other awards. DofE programmes take anywhere from one year to four years to complete.

The Bronze and Silver challenges each have four sections to complete, whereas the Gold challenge has five.

The challenge has a range of sections:

Volunteering - Activities for this section include anything that will help you give back or make a difference to the lives of others. Whether you're choosing to help your community, the environment, or society, it must be undertaken for a non-profit or a charity - without payment.

Physical - This includes activities such as dancing and sport. You can pick from a wide range of activities for this section, but they must require a lot of physical energy and sustainability to complete.

Skills - For this section, you must pick a skill you wish to enhance and develop. It can't be something that could go under the 'Physical' category.

Expedition - This section is where you train for and complete an unaccompanied expedition. Whether you're hiking under the stars or canoeing from one place to another, you can design an expedition that suits you.
The Diamond Anniversary Challenge
The Diamond Challenge was a special variation of the Duke of Edinburgh Award to celebrate their diamond anniversary in 2016. This once-in-a-lifetime challenge included activities like hiking, canoeing, and cycling, and all ages could participate. Sophie, The Countess of Wessex, completed a 445-mile cycle ride over the course of six days.

Thousands of supporters took part all around the UK to fundraise a startling £1.5 million. The funding has helped fund a huge of projects for disadvantaged young people, including volunteer training and development, expedition equipment, and bursaries.
Benefits of Undertaking the DofE Award
There are many benefits to completing the Duke of Edinburgh challenge and becoming an award holder. Young people can improve their self-esteem and build confidence, as well as make friends for life. This challenge helps with problem-solving and communication skills, which are important later in life.

Achieving an award also looks great on CVs for future college, university or job applications, as it shows determination, a willingness to succeed, teamwork skills, and resilience. In fact, in many cases, businesses will prioritise these invaluable skills over academic results.

Well-known alumni of the award include author Tom Avery, broadcaster Jon Snow, and Nobel Prize Winner Paul Nurse.
How to Get Involved
If you're a young person interested in completing the Duke of Edinburgh Award, there are many ways you can get involved.

First, ask your school or college if you can get involved through them. Alternatively, you can ask your local youth club to see if they run the Duke of Edinburgh Award or join a national youth group, such as the Girl Guides. If you're over 18, you can complete a Gold Award with DofE Direct.
A Great Way to Give Back
There are many ways to support the Duke of Edinburgh Award. The Duke of Edinburgh Award believes that every child should be afforded the same opportunities, despite their background. By donating directly or becoming a partner, you can transform young lives for the better, arming 14 to 25-year-olds with the skills and confidence they need to face all of life's challenges.

But donating isn't the only way to get involved. You can also support the Duke of Edinburgh Award by participating in some of the events and activities hosted by the charity. Check out the DofE website for more information on upcoming events.

Are you a business owner? You can also become a corporate partner of the DofE Award. DofE will help you attain, retain and develop upcoming talent, allowing you to connect with local communities and engage potential customers or clients. Other businesses that have partnered with the Duke of Edinburgh Programme include Heathrow Airport Ltd, The Asda Foundation, The Chartley Foundation, Age Partnership, and Lloyds Banking Group – but there are so many more.

You can also choose to leave a gift in your will. Whether you hold a DofE Award yourself, have known or been inspired by someone who holds an award, or you simply want to make an impact, leaving a gift to DofE in your will in a beautiful way to help young people thrive. You can be sure that your money is making a huge difference to the lives of teenagers and young adults all around the UK.
How Printed Memories is Giving Back
Printed Memories knows how important it is to look after our young people, no matter their background. That's why we've donated to the cause – and we will continue to do so, helping to improve the lives of others.
Wrapping Up
There are so many ways to get involved in the Duke of Edinburgh Award. Whether you're participating in the programmes yourself, or looking to donate and support the charity, their website has all the information you need. Help transform the lives of young people for the better.