28 Best Company Swag Ideas Your Employees Will Rave About in 2022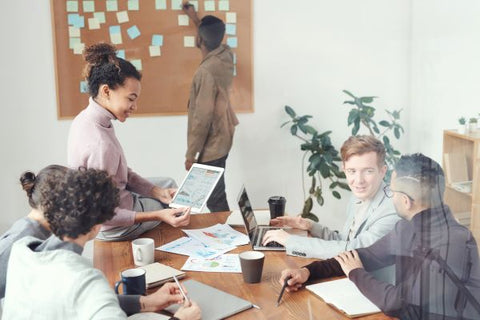 Who doesn't love a free gift? But company swag is so much more than that; it encourages team unity, improves brand recognition, and provides fun and versatile marketing. And yet, with the huge range of items available, navigating the world of company swag can be overwhelming, and finding the best fit for your company may be a huge challenge.
Looking for some great company swag ideas? Check out our article below - we'll help you make corporate gifting a breeze.
What is Company Swag?
You may have heard the term "swag" before, and you've likely picked some up, too!
"Swag" is another name for promotional products that companies gift to current and potential customers. From fares to meetings, businesses will invest in branded swag for many different reasons.
There are thousands of swag items available for you to take advantage of. Popular branded swag ideas include t-shirts, mugs, USB drives, stationary, and more, but company swag can also be much more creative.
How Does Company Swag Work?
The process is super simple. Brands and companies upload their custom designs on to products they feel fit their brand. For example, you may print your company logo or name onto a t-shirt, mug, mouse mat, or something else entirely. If you really want to get creative, you could even add a clever slogan. It's entirely up to you.
Employee swag is the same thing - only these promotional products are given to the company's employees rather than existing and potential customers.
The Benefits of Company Swag
There are many benefits of company swag, and here are just a few of them.
Improve Brand Recognition
Putting your company's name on a range of different products is a great way to increase brand awareness. Company swag is perfect for companies looking to go that extra mile and so something special, rather than just dishing out business cards. Take a pen, for instance - every single time a potential customer uses it, they'll take note of the company name and remember exactly where they got it from.
Creates Team Unity
Swag boxes are the perfect way to create unity and encourage team building, especially when your business is made up of remote employees. You'll feel like a solid unit, even if you're miles away from each other.
Easy, Low-Cost Marketing
Advertisements, social media, and email marketing are essential to running any business, but company swag is a versatile, authentic approach to marketing - and it will likely save money in the long run, too.
Encourage Customer Loyalty
Company swag isn't just a good way of getting your brand out there. Gifting swag is also a great way to make your customers feel special and drive sales. (And who doesn't love free stuff?) Reward loyal customers with a range of swag items they'll love.
Improve Employee Satisfaction
Not only will company swag show your employees how grateful you are, but it's also great for team-building, especially if your team is remote. Show those in your company how much you appreciate their hard work, even if they work from home.
Choosing the Best Company Swag for Your Brand
There are many things you need to consider when choosing the best company swag for your brand.
Keep Your Target Audience in Mind
Just like you would with your products and services, remember who your audience is when searching for company swag ideas. If you specialize in clothing, then gifting your employees and customers pet swag may not be the best idea.
Find Interesting or Popular Items
There is a reason why some company swag ideas are more popular than others. Some swag items are universal, such as a notebook, a pen, or a mug, whereas others may be more niche, and customers or employees may not use them to the extent of others.
Choose Swag Items That Complement Your Brand
If you're in the pet niche, you'll most likely benefit from providing pet-themed branded items, and if you're a clothing company, it may be better to purchase branded t-shirts. The last thing you want to do is choose swag items that will confuse your employees and customers.
Pick Something Your Employees Will Actually Use
You don't just want to send any old team swag item, no matter how great you think it might be. Instead, look for things you know your employees may use, whether during their day-to-day life or in the office. For example, a wireless charger may make the perfect company swag idea for someone who has a long commute to and from the office. And you can never go wrong with tech accessories, either.
The more they can use their new company swag items out of the home, the better. It means people are more likely to see the items, and thus, your company name and logo. For example, commuters can show off their new travel mug or tumbler on the way to work.
Choose Business Swag That Reflects Your Company Values
If you're an environmental company, opt for eco-friendly products. This is especially important if you're gifting a swag bag or box to your brand ambassadors or influencers. In today's fast-paced, social media-conscious world, it's more important than ever that a company's messaging aligns with its actions.
Company Swag Ideas
There are many great company swag items out there, but not every single item will be right for your company or your employees. Whether you're looking for cool corporate swag to impress your remote staff, unique custom swag items for your office-based staff, or items to add to a swag box, check out some great options below.
Branded Apparel
There are so many different swag ideas you can take advantage of when it comes to clothing. From t-shirts to hats and or even a branded hoodie, drop your company logo on something your employees can wear again and again.
This is a great idea for seasonal swag as well. In the winter, surprise your staff with beanies, gloves, and scarves, and opt for cooler clothes in the summer, such as rain jackets or t-shirts.
Quote Mugs and Cups
We all need our coffee, especially when confronted with a fast-paced work environment and a stack of looming deadlines. Mugs are a good company swag idea for all employees, but especially those who can't seem to stay away from the coffee pot.
Sneakers
A pair of sneakers is a great swag idea if you have an office full of commuters or if you're running a company that focuses on fitness. Whether they're hopping on and off of trains, taking their dogs for a walk, or going on their morning runs, this gift will surely get your brand name out there.
Backpacks
This is a great company swag idea for employees who are always on the go. Backpacks are perfect for commuters. So whether they're walking, biking, or catching the train to work, they can keep all their important items in one place.
Tile Tags
Tile tags are perfect for coworkers who misplace their items.
A tag tile, otherwise known as a Bluetooth tracker, is something you attach to different items such as your keys or your bag. They'll help you find any item you often misplace, which makes them the perfect gift for the scatter-brained employee with a messy desk or someone who always seems to be losing their keys.
Coasters
Coasters are a great swag idea if you work in an office of people. Not to mention, they'll help your employees keep their desks clean and free from pesky coffee stains.
Mouse Mats
Another office-based idea, mouse mats that show off your company branding is a creative way to ensure your team is comfortable working at their desk for long periods, whether they're in the office or smashing that keyboard from home.
Tumblers
A tumbler is a universal custom swag idea that no employee will turn their nose up at. These handy devices keep those essential morning coffees hot, and any cool drinks ice cold on long commutes. Staff can use them in the winter and the summer, whether they're in the office or finding a cafe to work remotely.
Water bottles
Water bottles are another universal swag gift that will suit a huge range of companies, no matter the niche, but they're especially great if you're involved in fitness and healthy eating! They make the perfect summer swag gift, and reusable water bottles are eco-friendly, too.
Eco-friendly Products
Speaking of the environment, if you promote eco-friendly services or products, then any swag item you gift your employees should be no different.
There are a wide variety of eco-friendly gifts you could gift your staff, including notebooks made from recycled paper, reusable straws, grocery and storage bags, reusable water bottles, and more.
Cheese Boards
Looking for something a little bit different than USB drives and pens? This company swag idea is perfect if you want to surprise your employees with a unique and thoughtful gift. Who doesn't love cheese?
Customized Playing Cards
If you're looking for a fun way to introduce company swag into your business, customized playing cards make a thoughtful gift. They're a fun way to break the ice, encourage screen breaks, and boost team building. This makes them perfect if you're looking for fun ideas for new recruits.
Keyboard Vacuum
From cookie crumbs to coffee drips, everything gets in between computer keyboards. This fun team swag idea will help employees keep their desks clean and tidy.
You don't just have to stop at keyboard vacuums - there are many other desk accessories for you to gift your employees that will help them maintain a clean and comfortable workspace, including desk sets, pen holders, charging stations, and more.
Gloves
Gloves are a great company swag idea for the winter season. They're even better if you invest in tech gloves, so your employees can continue to use their phones when the temperature has dropped.
Branded Sunglasses
If you're going to be dishing out swag in the summer season, sunglasses are a great way to show off your company brand.
Swag Facemasks
The pandemic has changed a lot of things. Show your employees that you don't just value their time - with a facemask, you can show them you value their safety too.
Branded Shakers
Branded shakers are perfect if you're company is centered on the fitness or sports niche. Encourage your employees to fill up their shakers with shakes, juices and water before they leave for the office.
Gourmet Coffee
Looking for luxury corporate gifts? Coffee is a huge part of company culture. Help your employees get through demanding deadlines and keep their energy high with a gourmet coffee kit. Coffee also makes a great addition if you're thinking of adding multiple items to a gift bag.
Laptop Sleeves
Laptop sleeves are perfect for remote workers, those who like to take their work to the nearest coffee shop, or commuters. This promotional item offers protection to your staff's computers while ensuring everyone gets a good look at your business name.
Notebooks and Stationary
Note-taking is a huge part of company culture. From a classic hard cover, to a soft cover, you can purchase a range of notebooks to gift to your employees. Pens, pencils, and erasers are also great additions to a company swag box.
Planners
A planner is a useful corporate swag idea for all employees, whether they're working remotely or spending their time in the office. The best thing about planners is that there are so many to choose from. Keep spirits high with a motivational planner, help employees keep track of meetings with dated pages, or get their creative juices flowing with a project planner.
Help your staff keep on top of their tasks and up to date with deadlines.
Custom Stickers
Stickers have been helping brands market themselves for decades. They're an affordable marketing solution.
Branded Pet Accessories
From branded dog bandanas to food bowls, there's a whole range of pet swag you could offer to your employees. This is a fantastic company swag idea if you work in the pet niche, as your employees will most likely have pets too.
Portable Wireless Chargers
Wireless chargers and power banks are a lifesaver, especially for those who always forget to charge their phones before leaving for the office. With a wireless charger, you can ensure your employees never find themselves without their phone.
Customized Headphones
Customized headphones are another great company swag idea for commuters and those on the go. They can relax to an audiobook or rock out to their favorite tunes, all while promoting the company in the process.
A Book
Surprise your employees with a book you think they'd like! This idea makes a great addition to a custom swag box when you include other branded products at the same time.
Fitness Gear
If you work in the fitness niche or have an active team, fitness swag ideas may be for you. Consider yoga mats, resistance bands, water bottles, and other fun fitness gifts to get your team up and moving.
Occasion and Holiday-Themed Swag
Surprise your employees at Christmas time or even Halloween with themed swag boxes and bags. You can easily create a holiday version of your logo, even if it's just edited to include a Santa hat.
You can also show your support to your employees during other occasions and events throughout the year, including Black History Month or Pride Month. Let your team know how much you value a dynamic and diverse workspace.
Custom Swag Boxes
You can use any of our great swag ideas above to create a swag box or bag. Custom swag boxes are the perfect way to welcome a new employee onto the team or let your current employees know you value the work they do.
Make sure to choose custom swag items that will suit your company. For example, you can never go wrong with notebooks and stationery. Fill your swag bag with pens, pencils, paper, and more, and provide an all-in-one solution to tackling busy deadlines.
We've included many great ideas above to help you create the perfect box for your company.
FAQ
How can I boost morale with remote employees?
Boosting morale can be tricky, especially in the current work climate. Whether your team is remote or based in the office, the best way to boost morale and ensure your employees remain productive is by letting them know how much you value them.
Employers can do this in a variety of ways, including giving them encouraging, positive feedback when they do something well. However, if you'd like to take your company morale to the next level, one great way to do it is through company swag.
Creating a custom swag box for each of your employees is a great way to thank them for all their hard work. You can fill the box with a variety of cool and exciting items, from coffee to keep them going when they're on the job to a customized mouse map to decrease fatigue.
What's the best way to select company swag?
Selecting company swag can be challenging, but there are a few things you can keep in mind to ensure you're doing it right.
Make sure to choose swag that reflects your company. Whether you're in the gift, sports and fitness, pets, food niche, or something else entirely, choose swag items that reflect your brand.
These items should reflect the company ideals, too. For example, if you're an eco-friendly brand, make sure your swag gifts are eco-friendly too.
Final Thoughts
Company swag makes a great addition to any company. Not only does it improve marketing and encourage brand awareness, but business swag also creates unity amongst your team. Customers and employees alike will feel valued and seen if you gift them new, cool corporate swag.
We've offered many fantastic company swag ideas for you to share your company pride. Now it's time to find out which custom swag items are the perfect fit for your team.