Beautiful Names That Mean Star For Boys and Girls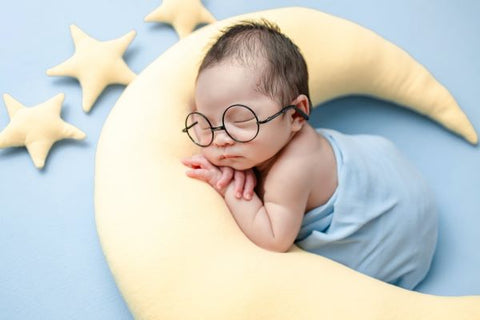 Finding that perfect name for your child is no easy task. Naming your baby is one of the most important things you can do - they'll carry this name forever. There are so many different types of names out there, with various meanings in many different languages. But what about calling your little shining star something that means, well, star?
The beautiful baby names below come with different star meanings. Maybe you're looking for a name that means shooting star, morning star, or the brightest star in the galaxy? Whether you're on the search for unisex, boy, or girl names, check out the star names below. They will ensure your little one shines.
Product Idea: Custom Star Map Gift.
Baby Names That Mean Star
Leo
You'll probably recognize this name, not just because it's a popular choice for a little boy but also because this constellation is one of the most famous astrological signs. Stemming from the Latin origin meaning 'lion,' this fearless name connotes courage and confidence. It's perfect for a lion-hearted little boy.
Danica
This beautiful Hebrew name translates as 'morning star.' There are various spellings of this name, including Dannica and Denika.
Orion
Plucked straight from Greek mythology, this name represents a greek hunter who later became the Greek God of hunting. The Orion constellation is found on the equator east of Taurus and is also the brightest constellation in the night sky.
Zeke
This popular Arabic name means "shooting star," and is perfect for any little boy. It also means "God strengthens".
Cynthia
Cynthia is another name for the Greek Goddess, Artemis, who was the Goddess of the halfmoon.
Vega
This beautiful Latin word means "falling star" or the brightest star in the heavens. It's also a Spanish surname that means "dweller in the meadow."
Andromeda
If you're on the hunt for constellation names, this Greek name is stunning. It also means "advising like a man."
Tarak
This beautiful name is of Sanskrit origin, meaning star and protector.
Estella
This beautiful Latin name has a literal meaning of "star." Charles Dickins fans will appreciate this one, too, as it's the name of a character in Great Expectations.
Stella
A shortened version of the name above, this name is also of Latin origin and is one of the prettiest baby names meaning star.
Astra
Astra is the Greek word meaning "from the stars" or "star." It's a pretty Greek name for your little girl.
Astraeus
Astraeus (or Astraios), means Star God. Astraeus was the Roman God of Dusk, Stars, and Planets.
Aster
A variation of the above baby names, you might also recognize this as the name of a flower. However, it's still perfect for a star lover, as it's also of Greek origin, meaning star.
Setareh
Setareh (or Setare) is of Persian origin, meaning star or fate.
Hoshi
This is the Japanese word for star and is traditionally a name given to baby girls.
Sirius
Harry Potter fans might appreciate this beautiful star name. But there's more to the name than a character in a book. This name has Latin origins and means "burning," referencing the brightest star visible from earth.
Draco
Another choice plucked straight from Harry Potter, this name is actually of Greek origin and refers to the dragon constellation, one of the largest constellations in the sky. So if you're looking for constellation names, this Greek name is a real winner.
Dara
This is a beautiful name meaning star in Khmer.
Izar
This name is of Basque origin and means star.
Nebula
With a Latin origin meaning "little cloud," a nebula is the gas and dust that forms between stars. This Latin name is also a great option for those who are Marvel fans, too!
Zvezda
Zvezda is of Slavic origin, meaning star.
Sol
With a Hebrew, Portuguese and Spanish origin that means "sun," this is the perfect name for a bright star in the making.
Felis
This isn't just a name meaning star; it's the name of a specific star - the cat star. It makes sense, as a common cat name is Felix.
Bellatrix
This name is of Latin origin and means "female warrior." You'll find it in the Orion constellation.
Selina
With a Greek origin, this name means star in the night sky. It's a beautiful Greek name for any baby girl.
Maristela
This stunning Spanish word means "star of the sea."
Maribelle
This Latin name is stunning and, like the above Spanish version, translates as "beautiful star of the sea."
Indigo
This beautiful name is also that stunning inky color of the night sky.
Scorpius
This fiery Latin name means 'scorpion,' which is also the name of a constellation. It's the perfect choice for a baby boy born under the Scorpio zodiac sign.
Castor
With Greek origins, this name references the brightest star in the Gemini constellation, making it the perfect choice for summer babies.
Celeste
This name is of French origin and means "heavenly star" or "heavenly."
Namid
With Native American origin, this lovely name means "star dancer" in Ojibwe.
Sammay
This name meaning "the beginning," is of Indian origin.
Réaltín
This cute name is of Irish origin and means little star.
Sutara
In Hindi, this name means holy star and is a wonderful choice for your little girl.
Tara
Tara is the name of the Hindu astral goddess, who looks after the Underworld, Earth, and the Heavens. Although her name doesn't literally mean star, this is still a beautiful choice.
Esther
Of Hebrew origin, this strong name means star. She's also a strong female figure from the Old Testament.
Conclusion
We've offered up a whole list of names that mean star, from those that mean star in the literal sense to other space-themed names. Whether you're looking for boy names, girl names, or unisex names meaning star, we hope you've found the perfect name for your little one.
Our Star Maps
Celebrate your little star with a star map.
Our star maps allow you to turn that unforgettable day your baby was born into a stunning keepsake you both can treasure forever, long after they've grown up. With a range of map designs, you can tailor your map perfectly to your new baby.
Click here to find the perfect quote for your star map.