8 Photo Editing Tips You Can Do On Your Phone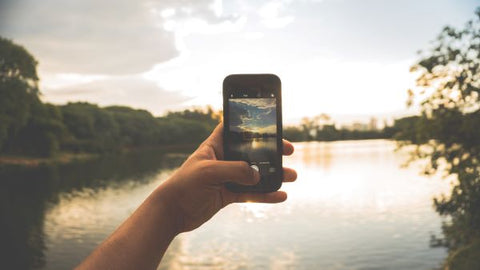 In the digital age, everyone's looking for brighter, better, and more aesthetically pleasing photos to dress up their Instagram feeds and Facebook timelines. But, contrary to popular belief, you don't need a fancy camera or the latest technology to take memorable photos.
Smartphone photography has taken over. You can easily take aesthetic photos on your native iPhone camera app or on your Android phone.
This free guide contains all the mobile photo editing tips you need to take your photos to the next level. Editing pictures has never been easier!
Do I Need Mobile Editing Software?
It's a common misconception that you need the best software to edit photos, but that's not true. Almost every mobile device has a built-in phone editor app. You don't need to download the latest apps or pay through the nose for premium (we're looking at you, Photoshop) - especially not when you want to make basic adjustments.
These quick mobile photo editing tips can be done for free with your phone's native gallery app without draining your bank account.
Getting Started
It's super simple to get started. You can follow these mobile photo editing tips from any mobile or tablet device. All you have to do is open your mobile gallery or camera roll, tap on the photo you want to transform, then go to the editing button. This may look different depending on the type of phone you have. Once you've loaded it up, you're ready to go.
Tip 1 - Straighten Your Images With The Crop Tool
This photo editing tip is so effective, it's shocking that many people don't do it. It's the perfect way to fix wonky or tilted photos, making them look more professional in the blink of an eye.
Just tap the crop icon. You'll see a few buttons, such as the flip button. Tap on the straighten button, and go from there. If you're editing photos taken outside, look for the horizon or the ground - this will help you see whether your photo is tilted. The aim of the game is to get this as straight as possible, which, in turn, will straighten out your whole photo.
Tip 2 - Crop Your Photos
This super-simple tip is the perfect way to get a better composition. You can crop out unwanted items or people from the edges, pulling your eyes to the main focus on the image. Be careful not to crop too much, though - the last thing you want to do is shave off important elements. In fact, when you're taking photos, avoid zooming in for this very reason. All you have to do is tap the crop tool.
Tip 3 - Use Highlights and Shadows
Using the highlights and shadows tool will help increase or decrease contrast and bring out details that may have gotten lost in the photo by tackling under-exposed areas. Highlights lighten the lightest parts of the image, whereas shadows - you guessed it - darken the darkest parts of the images. You can manipulate both to adjust the contrast and create an image that truly pops.
Keep in mind that this might not be as effective as on photos taken on a camera, as the resolution tends to be lower. But it should still do the job fine for a Facebook or Instagram photo!
Tip 4 - You Can Also Adjust Exposure and Brightness
Just toggle the slides left and right to increase or decrease the light on this photo. But be careful - it's really obvious to see when a photo is suffering from too much exposure or brightness. You also don't want to get rid of too much contrast in your photo, as this is the thing that will make your phone photography pop.
Tip 5 - Give Your Colors a Boost With Saturation and Vibrance
This tip will help all the colors in your photo pop. Adjusting the saturation and vibrance should make the greens look greener, the yellows look brighter, and the magentas look even brighter. It'll bring out all the details that were hiding before. Be careful with this tip, though - it's very easy to overdo it!
Tip 6 - Use Temperature To Make Your Images Pop
This photography tip will help you improve the white balance of your photos. Although your phone, most of the time, automatically adjusts the white balance, this is still a good tip to have under your belt. In lamens terms, white balance ensures that all the colors look exactly as they should. It's more noticeable in portrait photos than landscape, as you're more likely to pick up on it with faces and skin color. If the color of the skin is off, this can throw the all photo off. This tip will not only adjust white balance but will also help your duller colors stand out, giving an extra edge to your mobile photography.
Try to find a balance between blue and yellow. This will help whites stay white and, in turn, skin tones will look normal.
Whether you leave your images on your feed or print them out, with these photography tips, you'll have something you'll be proud to show off.
Tip 7 - Try Grid Lines
Grid lines are less of an editing tip and more of a powerful tool that will help you out when you capture and frame the photo. You can use them to balance your shot by utilizing the 'Rule of Thirds.' This may sound complicated at first glance, but it's actually quite simple. Make sure those essential elements you want to draw the user's eye to (for example, your grandma, your pet dog, or a tree in a landscape shot) cross over with the lines. Sound tricky? It's probably easier if we show you.
See? All those important elements are lined up with the lines. This handy tip will ensure less photo edits in the future.
There are also a number of other tools in your camera app that will help you create awesome photos. If you have some spare time, why not play about with them?
Here's an example:
Rather than the tips mentioned above, this is something to implement before you've even taken the photo. And here's exactly how to do it:
Step 1
Load up your camera app. Make sure the setting is set to photo rather than video.
Step 2
iPhone
Load to your settings

Choose 'Photos & Camera'

Make sure 'Grid' is switched on
Android
Go to settings

Scroll down until you see the option to toggle 'Grid Lines' off

Make sure it's on
Tip 8 - Beware Of...
It's all well and good giving you mobile photo editing tips to implement. But there are certain things you'll want to be on the lookout to avoid, too, as these can ruin your images.
Overdoing It
You know what they say; too much of a good thing can be bad. That's exactly the same with these photography tips. The last thing you want to do is adjust brightness or exposure and flood your photo with white light, or make too many color adjustments and turn your whole photo yellow. A little color intensity is a good thing, but too much just won't look good. Overly edited images are really obvious to pick out. (Trust us - we've been there.) Instead, when photo editing, make selective adjustments, and remember, a little goes a long way.
Filters
It's the digital age and we're surrounded by filters. They're everywhere - on Instagram, Facebook, TikTok, and more. And yes - even in your phone's gallery app! Be cautious with these when photo editing. They may give your photos a dramatic effect and make them stand out but, most of the time, it's very obvious they've been used. Opting for our quick photography tips instead will make your photos stand out as well as keep them looking natural. You'll look like a pro!
Third-Party Apps
It's a common misconception that you need the pay to get good photos. Where professional photographers will need professional apps and software to fine-tune their pictures, most of us really don't, and other apps will work just fine - even if they are free. All our mobile photo editing tips can be done with your native editing app.
However, if you're still not satisfied with your phone's gallery or would like a wide array of features (such as the healing tool), there are a number of free versions out there. Even Photoshop has a free version of their app - just Google 'Lightroom mobile' in the app store! 
Losing Your Original Photo
The last thing you want to do is make an adjustment you're not keen on, just to realize you've lost the original file, effectively ruining your photo forever. When in editing mode, always make sure to save a copy, rather than saving over the top of your original image. So no matter whether you've overused that crop feature, or made too many edits, you always have the original image to go back to.
Conclusion
With the advancements of digital technology, mobile photography is only going to get better. Phone manufacturers like Google are already bringing in a world of new features, from red-eye fixers to even removing those pesky photo-bombers from out the background of your pics. Android and  Your phone editing software will only become more sophisticated as time goes on. And we'll make sure to keep bringing you more tips - create super aesthetic mobile photography you'll be proud to show off to your friends and family. And hey - you might even want to put them in a photo book!